News
February, 9th 2023 : We mourn for all the victims of the devastating earthquakes in Turkey and Syria and pray for all survivors !
January, 27th 2023 : And another long overdue update...
The pandemy is more or less history... yet the world is still in turmoil with Germany being on the crisis front...so it appears. Nonethelesss 2022 was an interesting year with many new geological experiences and the opportunity to visit some geological high lights / geosites in the Sultanate of Oman, Belgium and Scotland. We consulted on various mineral commodities such as rose quartz, vermiculite, phlogopite mica and nickel laterites. Please find some images below.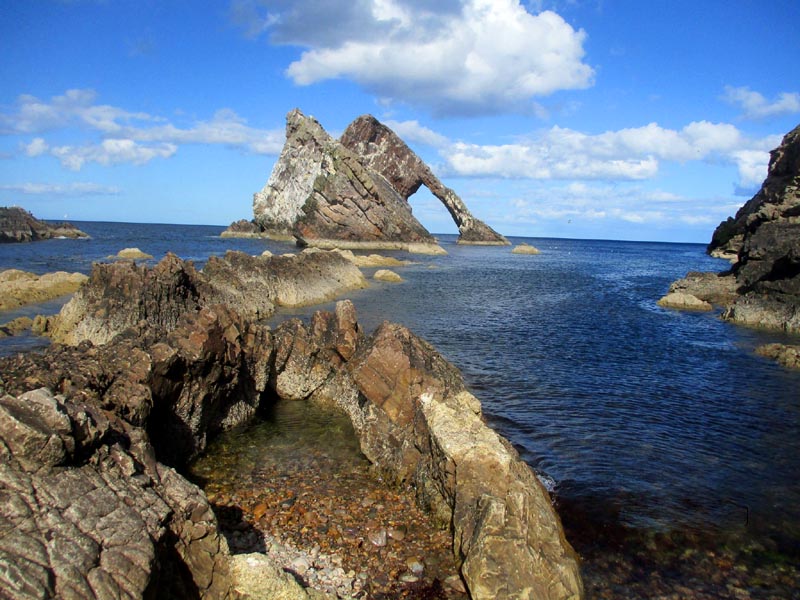 Bowfiddle rock in northeastern Scotland -one of many geosites we were able to visit on our Northern Scotland trip in summer 2022. A trip report is coming soon.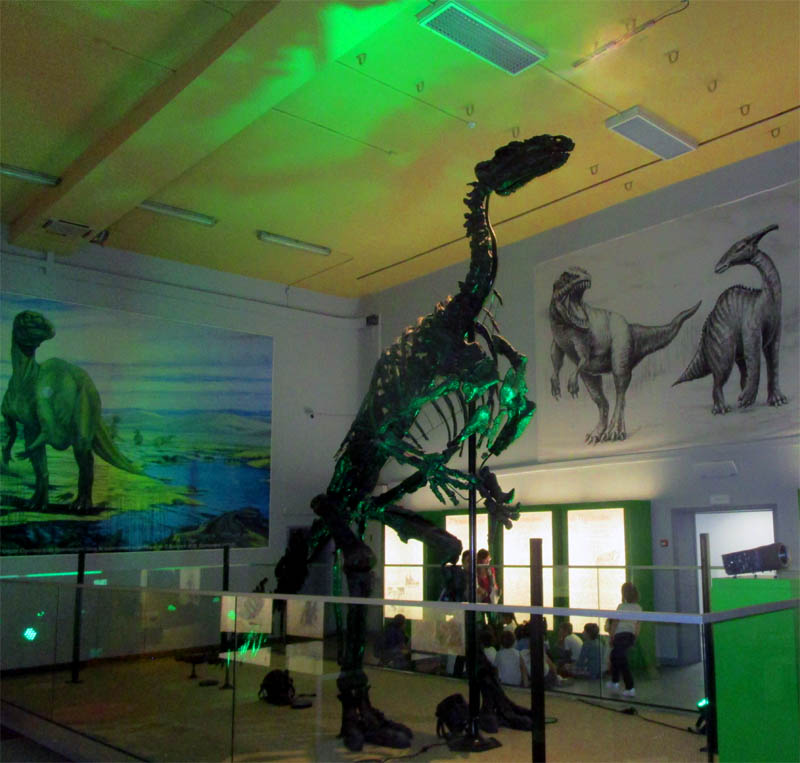 In the Bernissart museum in Southern Belgium. In the nearby coal mine a whole flock of 30+ iguanodont dinosaurs were found in 370 meter depth and excavated in the years 1878 to 1884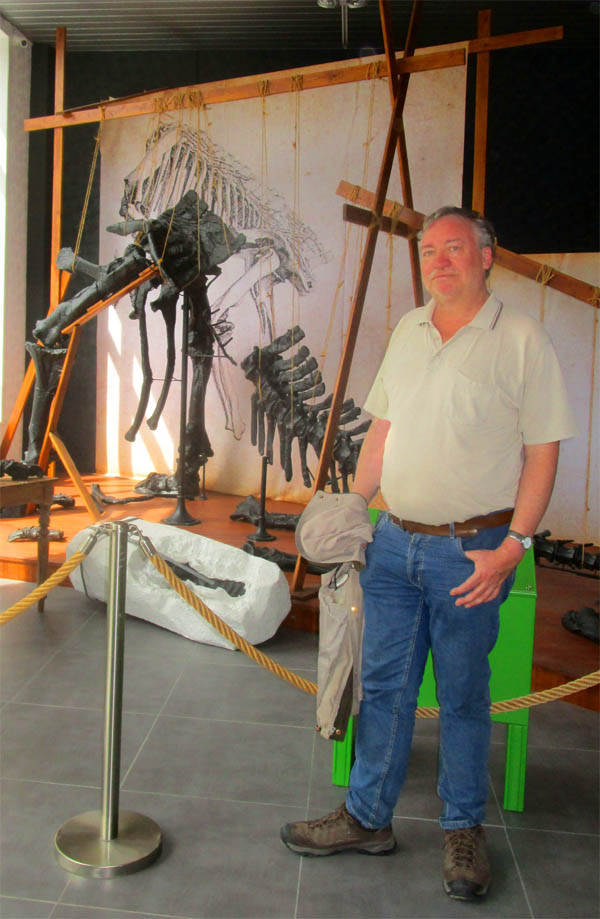 Proper reconstruction of the iguanodon bones proved to be very difficult, as the concept of bipedal dinosaurs was rather new for that time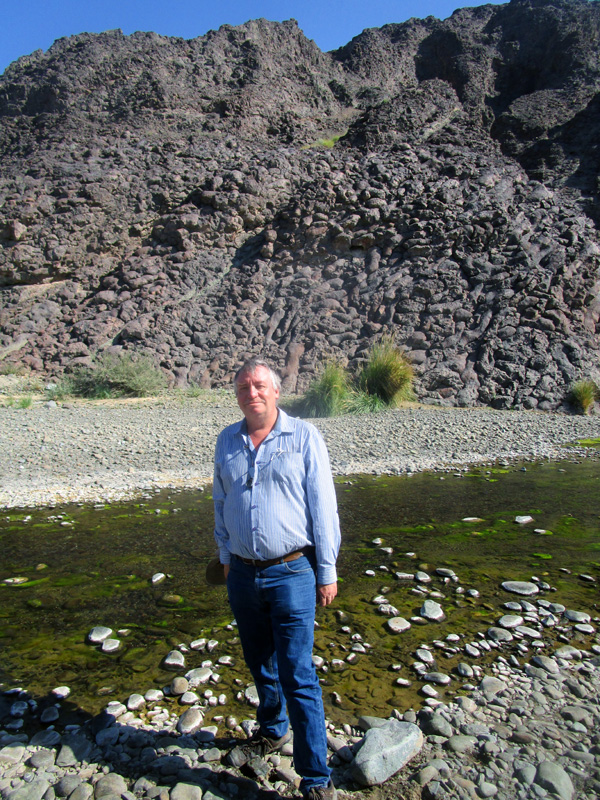 The fabulous Geotimes - exposure in Wadi Jizzi west of Sohar, Sultanate of Oman with excellent preserved pillow lava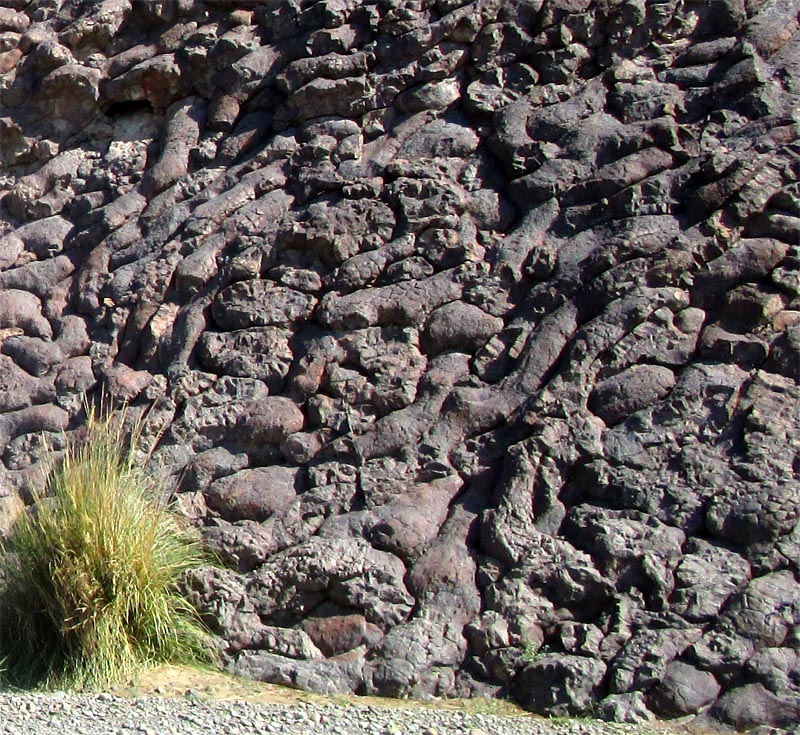 Detail of the typical lava pillows, forming in the process of submarine volcano eruptions.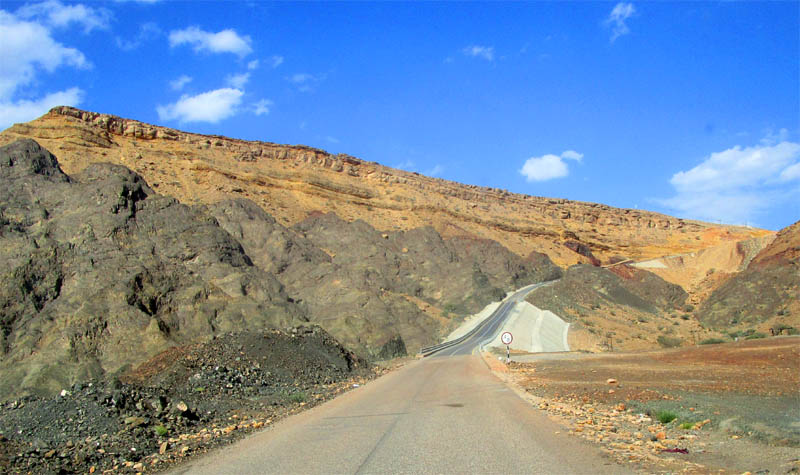 Reconnaissance of laterites in the Sultanate of Oman : Road cut near Ibra with ideal succession of ophiolites - saprolite - laterite and uppermost limestones. Note : as soon as the limestone is gone, the soft laterite will erode very quickly.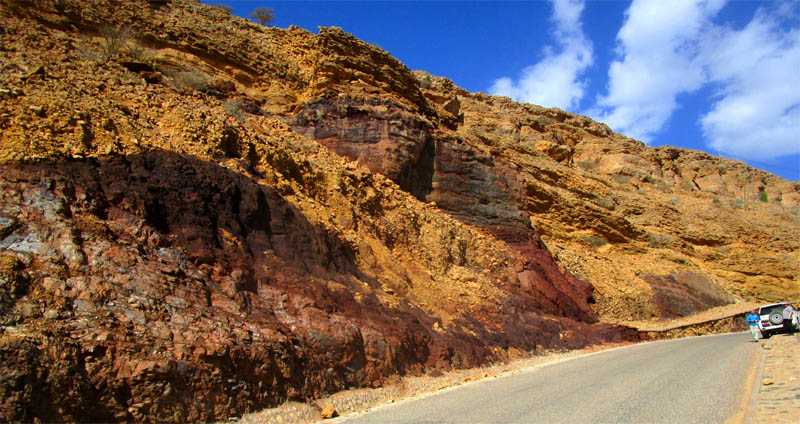 Detail of the iron- and nickel enriched laterites near Ibra
January, 25th 2022 : Long Overdue Website Update
The year 2021 was a quite strained one due to Corona / COVID restrictions and many promising projects were delayed or simply scrapped. Nonetheless we were able to continue our consulting services successfully and completed some interesting projects in time. One of these projects was the geohazard and climate hazard assessment of a hydropower plant in the beautiful Pölstal in Styria / Austria, which was influenced by former underground lignite mining of the Fohnsdorf mine. Until its closure in 1978 the Fohnsdorf mine was renowned as the deepest lignite mine in the world, reaching a total depth of 1280 meter below surface. Fortunately we had the opportunity to see and learn a bit more about the rich mining history and heritage of the Pölstal, which beside Fohnsdorf hosts the famout silver mining district of Oberzeiring, the gold mining district Pustertal as well as modern magnesite mining operations.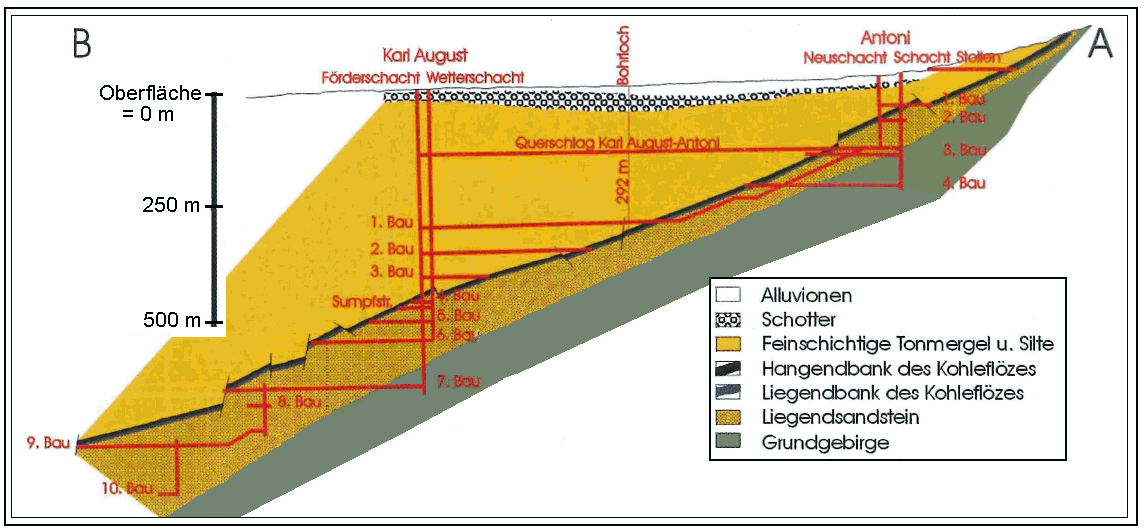 Section of the Glanzkohlenbergwerk Fohnsdorf (high quality lignite mine) reaching 1280 meter depth in 1978
Again we were asked by a german precious metal company to consult on gold deposits in Europe and Africa. The results of both studies are certainly interesting and show a dramatic increase in gold production in Turkey and some african countries in recent years, while the gold production of South Africa is rapidly declining. Here we publish two maps of the gold production development of Europe and Africa, which might be of interest to you.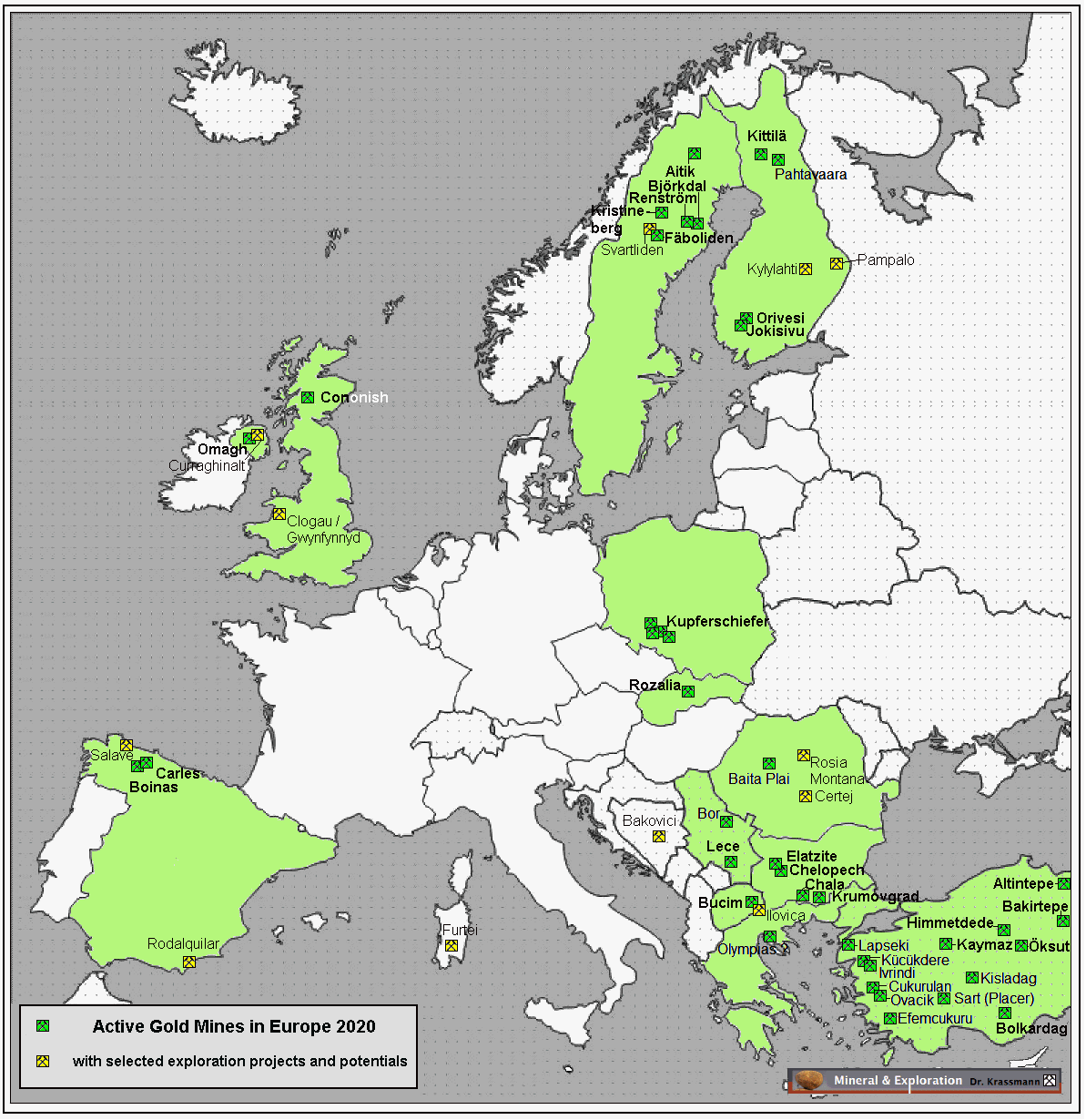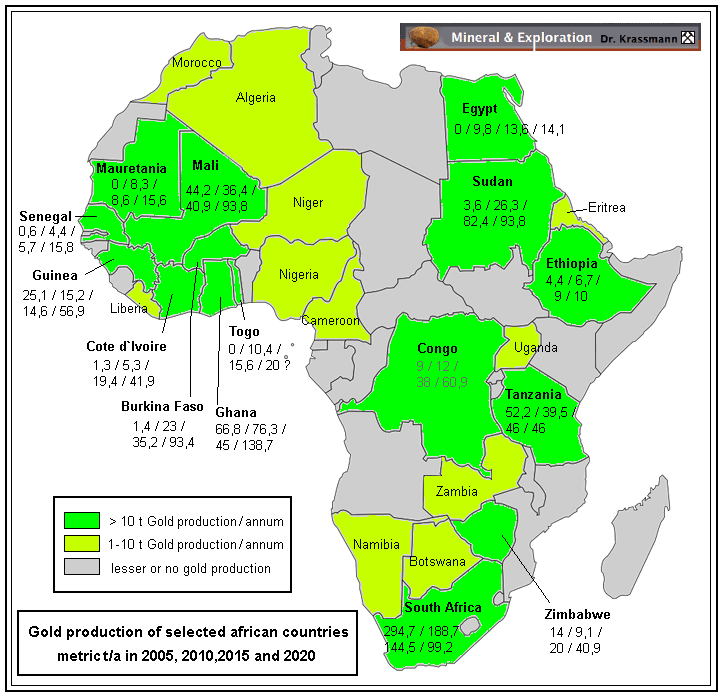 In 2021 we visited Spain, Southern Sweden and Turkey, where we assessed a number of industrial mineral deposits : bentonite, sericite and pyrophyllite, which is used to produce high quality white cement, e.g. for the concrete structures of the impressive "Ciudad de las Artes y las Ciencias" in Valencia, see photo below.
.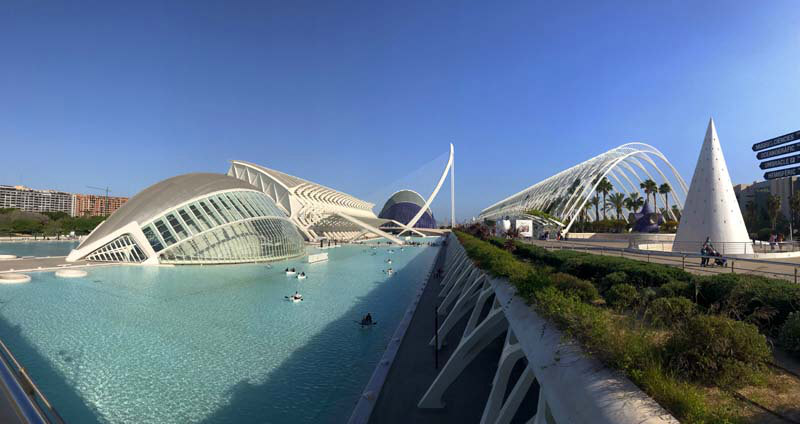 Use of pyrophyllite based white cement in Ciudad de las Artes y las Ciencias in Valencia
In August me and my family were on a field trip to Southern Sweden. In fact we followed the route of a former - very much sedimentological & paleontological - Göttingen university field trip way back in 1983, which I attended as a young student. So it was a bit of a time travel experience, seeing all this places again after 38 years. You can follow our steps in this field trip report (sorry : in german, but with many images) in our publication section.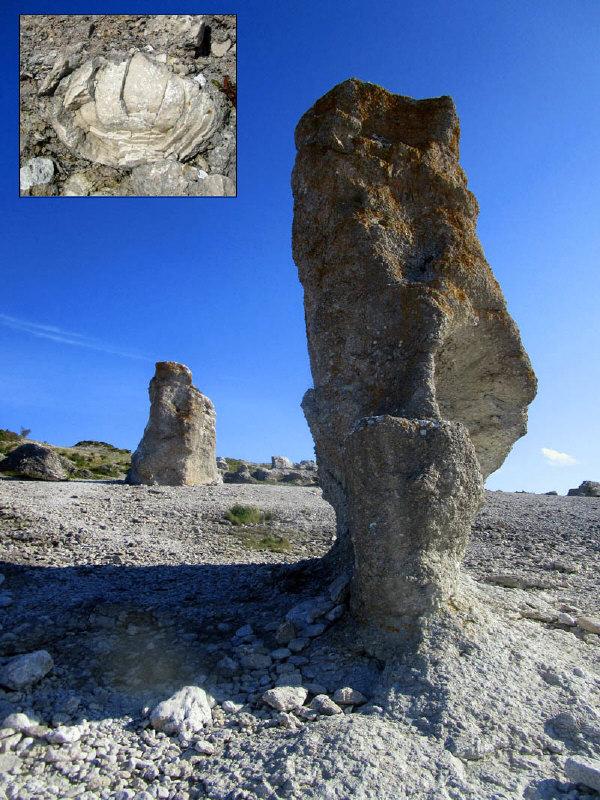 Typical Raukar pillars on Farö Island, most probably a silurian stromatolite reef complex
Finally I updated my reference list, which you can find here. Also updated the mining newsletters, published weekly by Horst Bittner since many years.
Obituaries : Tragically two close friends of mine passed away in the last year, both of which accompanied my way as a geologist for many years. Bernard von Bredow was a brilliant paleohistorian & paleobiologist and the founder and owner of the private mammoth museum "Mammutheum" (external link to the former museum) near Siegsdorf. Bernard sadly lost his life in Paraguay on September, 22th 2021. My sincere condolences to his family !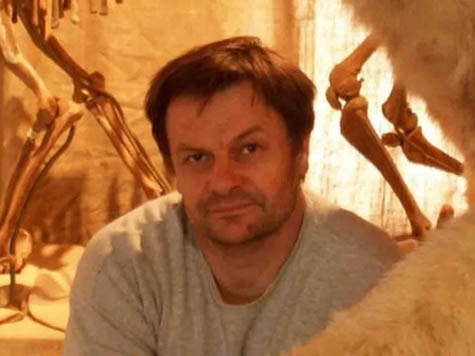 Bernard von Bredow - RIP
Just a few days after New Years Day 2022 my spanish friend "Pepe" Jose Manuel Canto Romera sadly passed away unexpectedly due to a heart failure. Pepe was the ideal of a (spanish) geologist, excelling in the field and always willing to grab his hammer and field boots. I am deeply grateful for his hospitality and kindness, to show me around in Andalucia, introducing me to the local geology and fascinating people and giving me some looong evenings to remember. Thank you Pepe for all and very sorry, that we never made the follow up on these spanish kimberlite...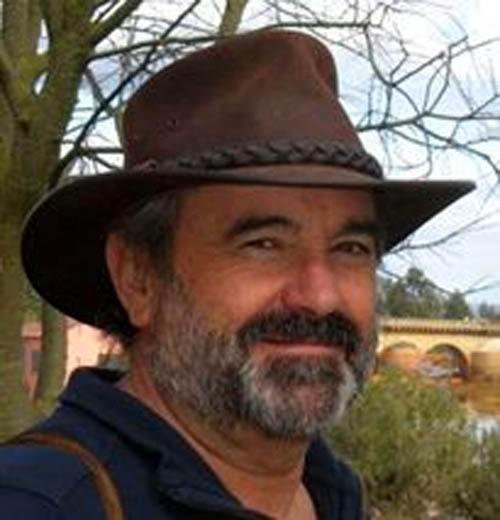 In dear remembrance of Jose Manuel Canto Romera, a good friend and "un hombre muy tipico andaluz" !
September, 13th 2020 : Northern Ireland Trip Report 2020
Organising a summer holiday abroad was a tricky task indeed in 2020! So finally we decided on Northern Ireland, where we spent about a week on the Causeway Coast with beautiful geological exposures. Here you see some geo - images from World Heritage Site Giants Causeway with marvellous basalt columns and maybe even better examples of spherical basalt weathering. Enjoy ! If you like to see more images from the trip, please click here for an illustrated tour report in german language..
Also updated the mining newsletter section by Horst Bittner.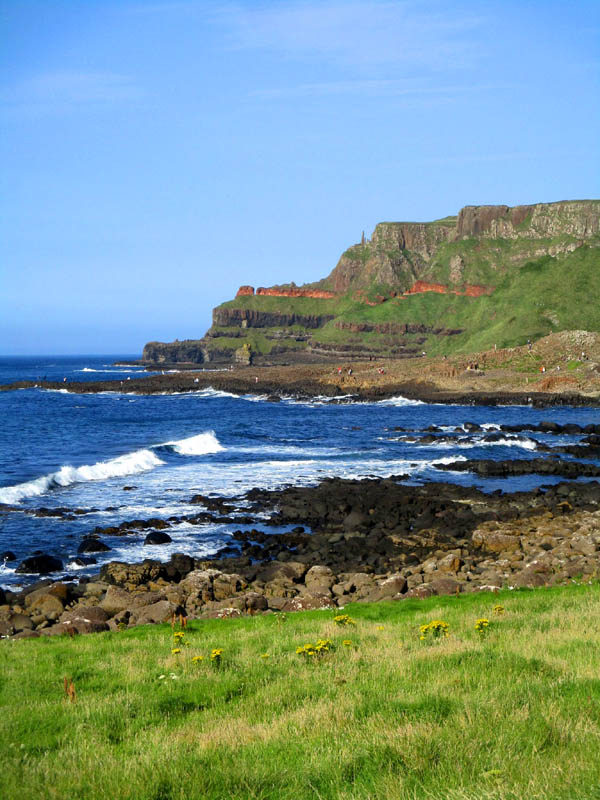 Giants Causeway Bay with early tertiary flood basalt and bright red laterite (fossil soils) horizons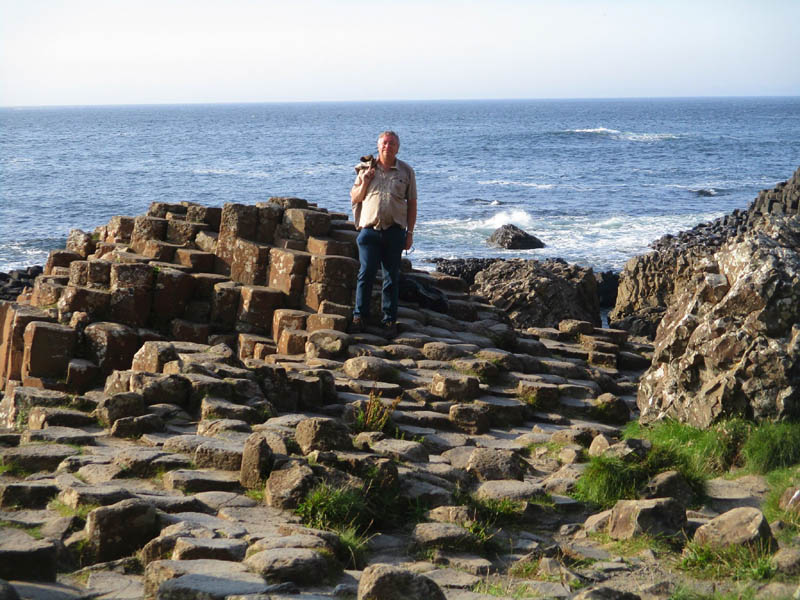 Columnar basalt at Giants Causeway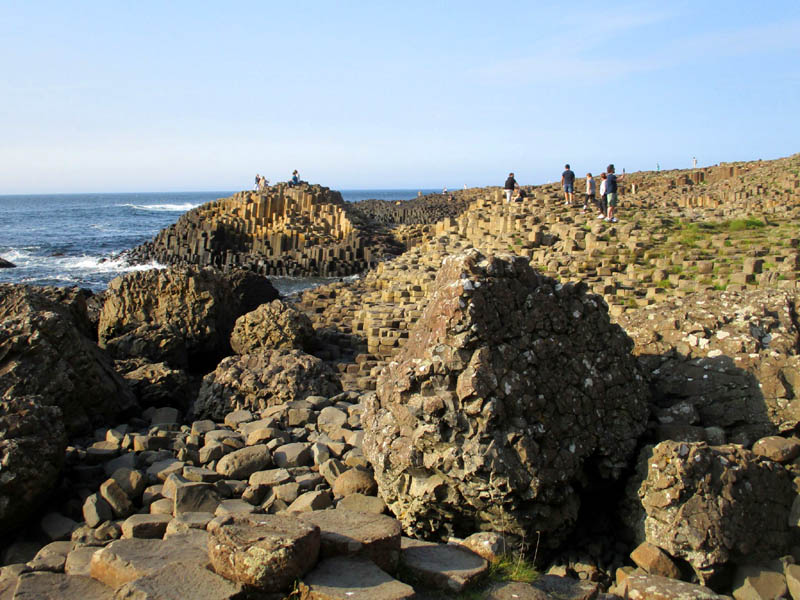 Columnar basalt at Giants Causeway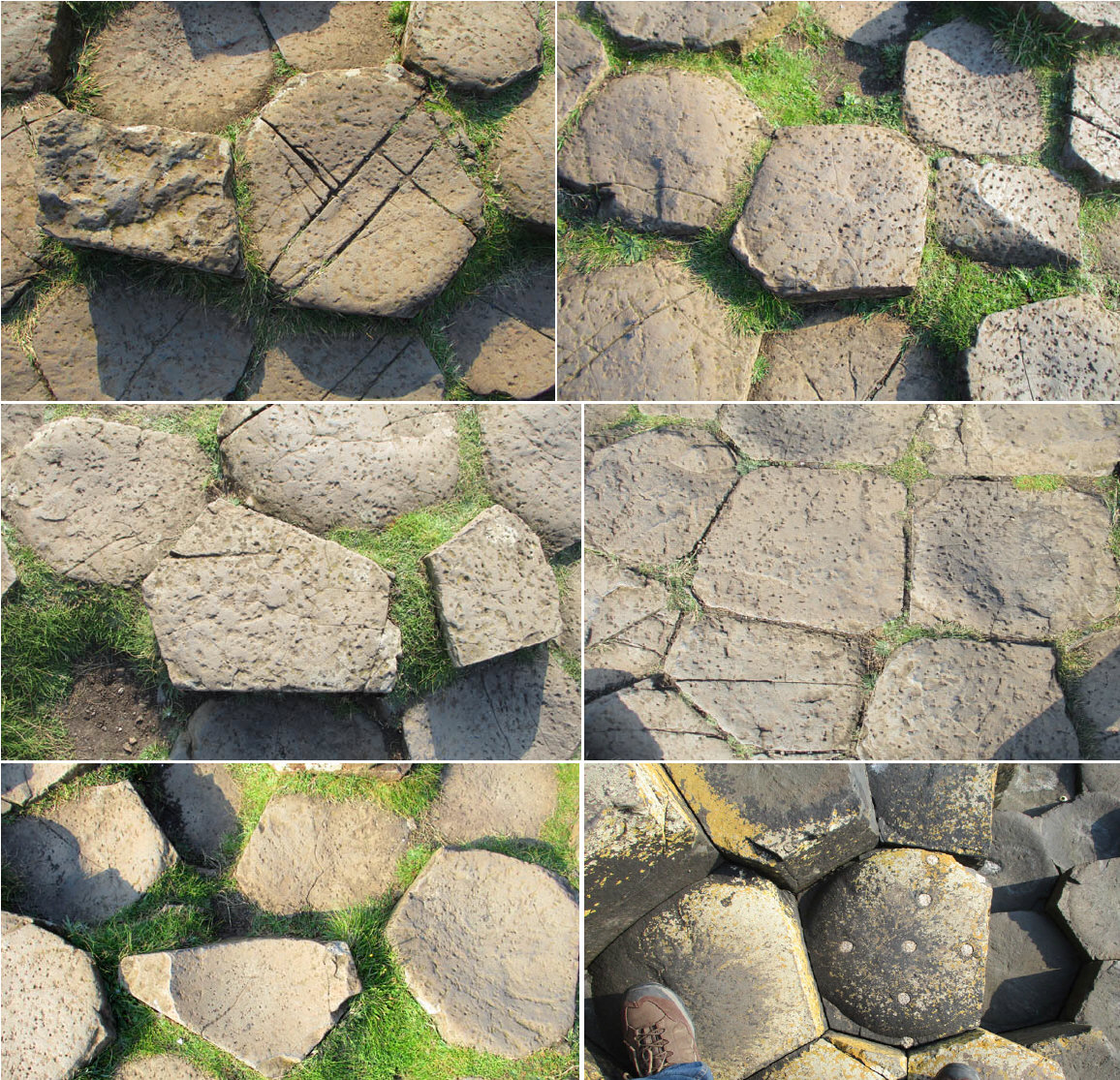 Not all basalt columns are hexagonal / six sided...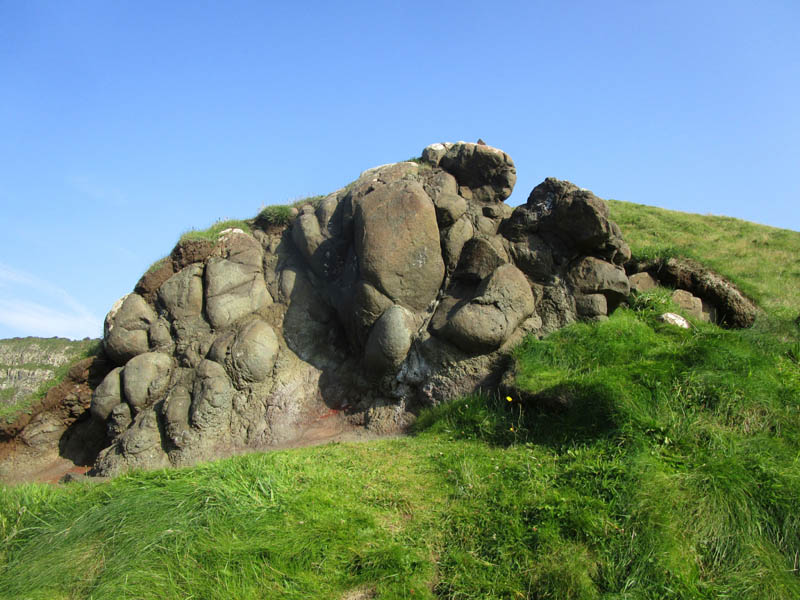 Out of the text book : Spherical weathering of basalt at Giants Causeway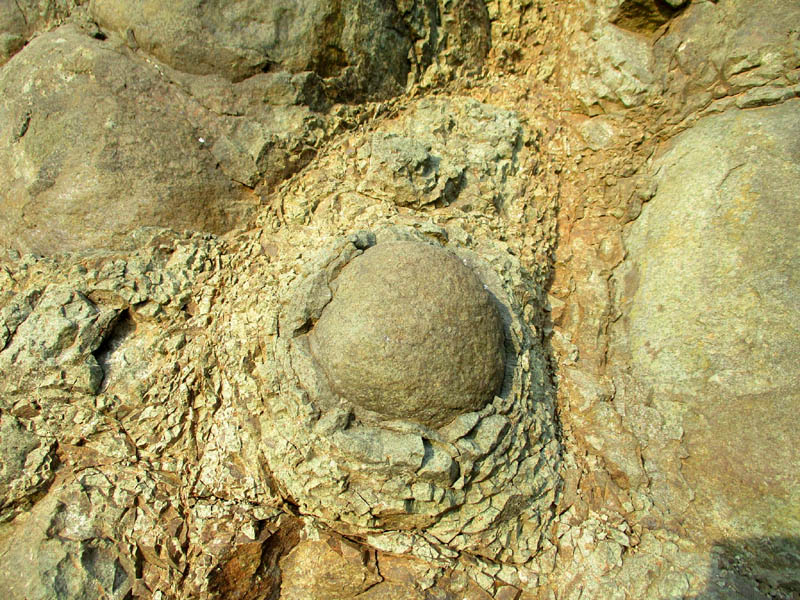 Detail of spherical basalt weathering at Giants Causeway
May, 11th 2020 : 10 Years Website Mineral & Exploration - Dr. Krassmann !
10 years this website is online now with friendly support by Lutz Geisler. Since 2010 a lot of content has been added and also some very interesting projects has been generated by visitors of this page. The most exciting of these certainly was the one and a half year assignment to assess and build a mineral resource database of the Sultanate of Oman during 2011 to 2013. Currently the corona virus makes foreign travels almost impossible, so it is a good to remember more happy times and projects. Lets hope all together, that international borders will be open soon again and travels again possible !
In the last few weeks I have worked on a desk top study on pyrophyllite deposits, a versatile industrial mineral wirh numerous applications and uses, and a beautiful one too, as can be seen in the following image. If you have any questions concerning pyrophyllite, dont hesitate to oontact me..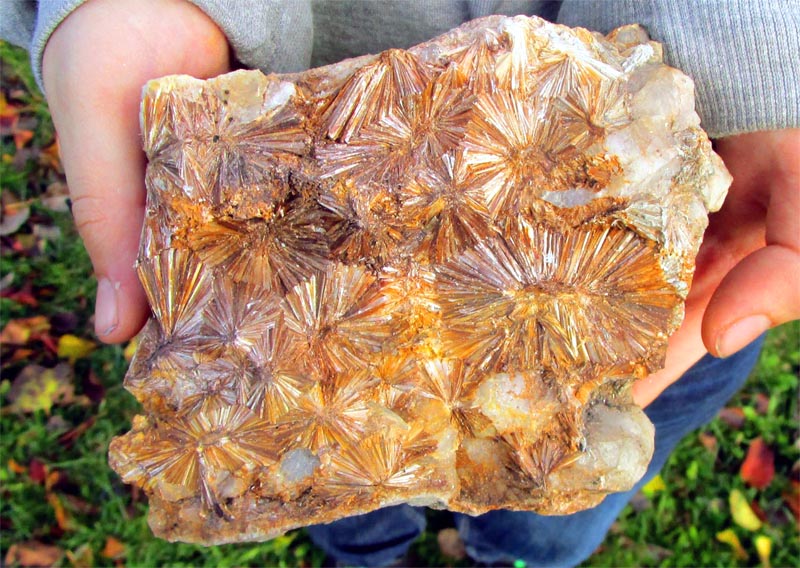 Recently I wrote, inspired by Dirk Uebel / Greiz a new publication about giant "cap quartz crystals" in the Hakos Mountains in Central Namibia, which was published in the March 2020 issue of the german LAPIS mineral magazine. Feel free to download and read the paper by clicking the image below.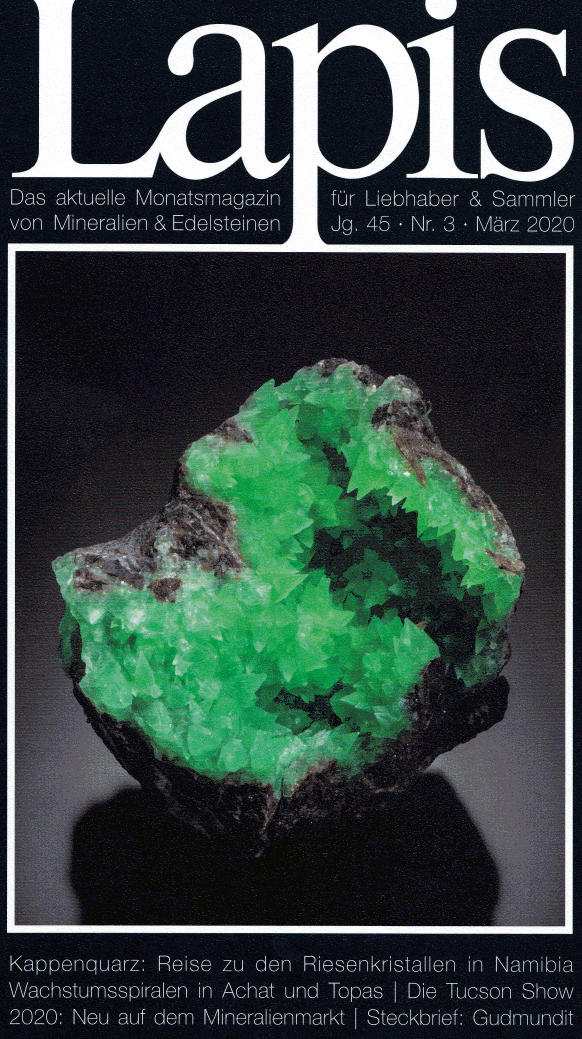 We wish you and your family a good time and stay healthy and safe in these difficult times !
February, 14th 2020 : Update References 2019 & Mining Newsletter :
References for 2019 and Mining Newsletter by Horst Bittner has been updated.
December, 24th 2019 :
We wish all our guests, friends, collegues and business partners a Merry Christmas 2019 and a good start for the upcoming year 2020 !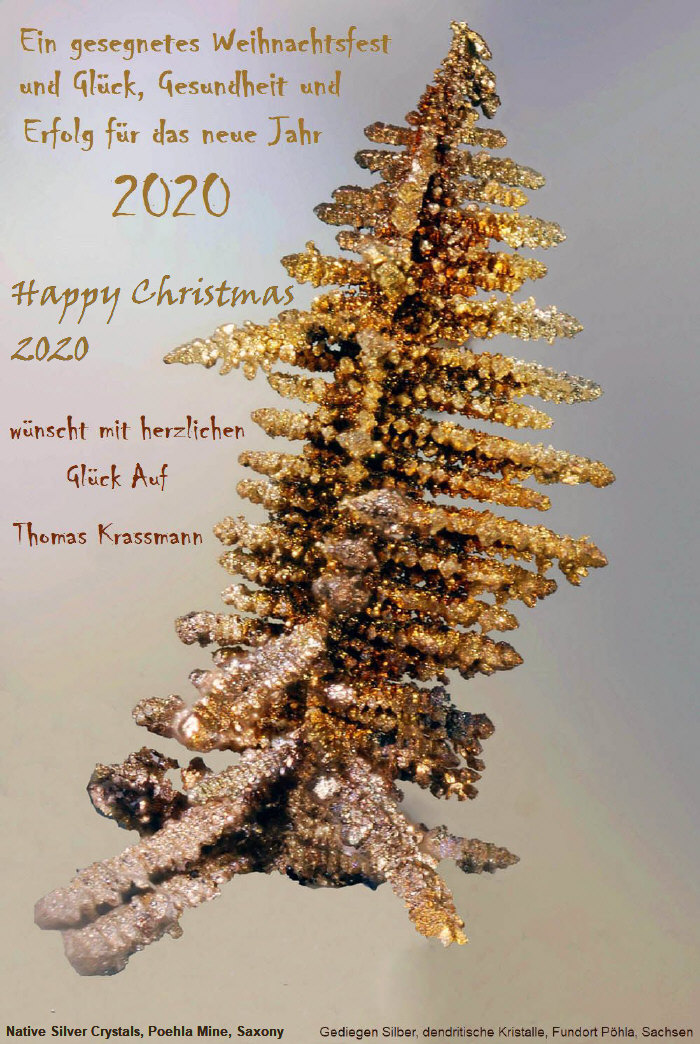 September, 20th 2019 : Late Summer Update and new Publications :
Finally the long overdue update of our website with new publications covering Antimony in Northern Vietnam and impressive rich Zinc - Silver - Lead Deposits in the German Ruhrgebiet. You can find more publicationson this page. Also updated the Mining Newsletter and fixed some minor bugs and corrections.
This year we spent our annual summer holiday in the land "where industry was born...". Very favourable geological conditions like the simultaneous occurrence of surface near iron ore, limestone, coal and ceramic clay enabled the early development of large and for its time extremely modern iron furnaces and the world largest tile factories. And industry as we know it today was born ! In 1986 the area of the Ironbridge Gorge and Coalbrookdale in Shropshire, Eastern England was granted World Heritage Status and 10 museums now highlight different topics of the early stages of industrial revolution from 1750 to 1900.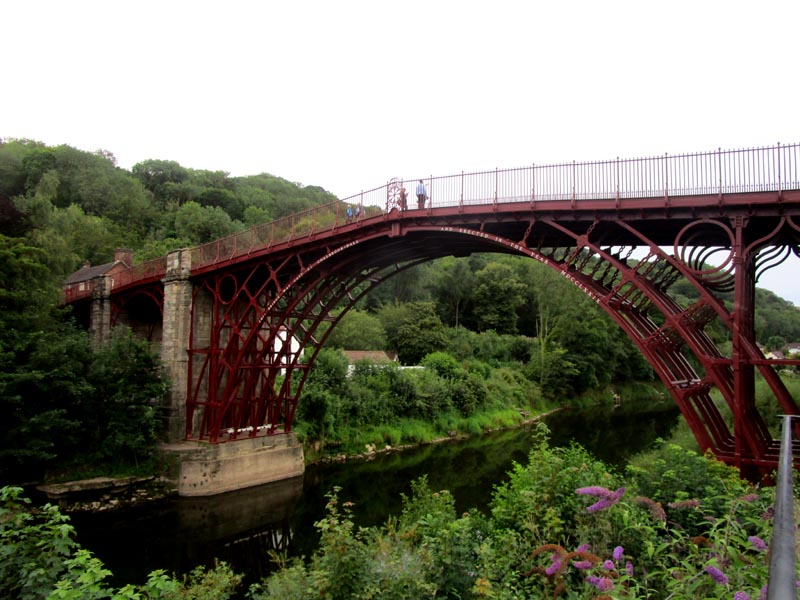 Where industry was born...: The iconic 60 meter wide Ironbridge since 1779 spans
the River Severn and is the oldest wrought iron bridge in the world close to
Telford, Shropshire
From Ironbridge we went to visit the highest navigable aquaeducts at the Llangollen channel and from there to Anglesey Island, which hosts one of the most important copper deposits of Western Europe as well as a remarkable and unique geology.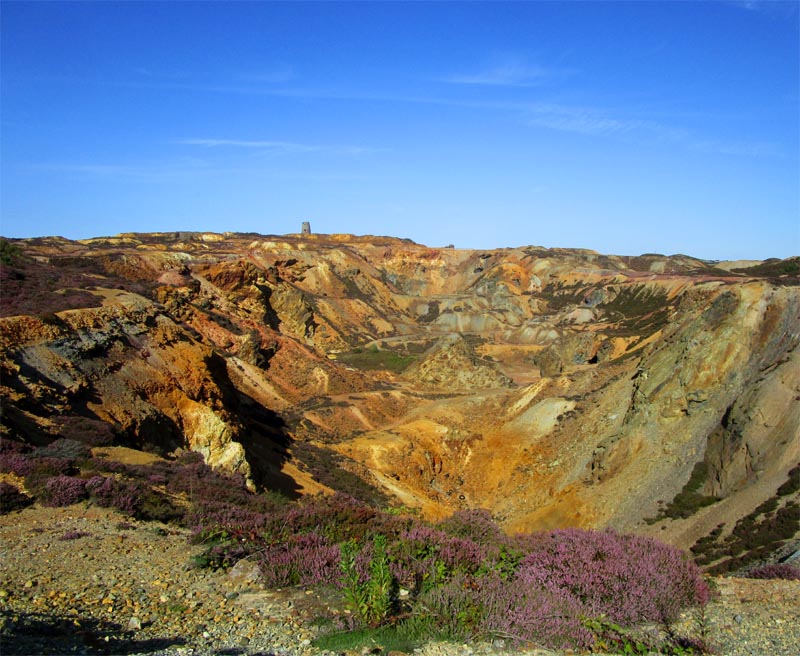 Colourful open pit of Parys Mountain Mine, once one of the largest copper mines in Europe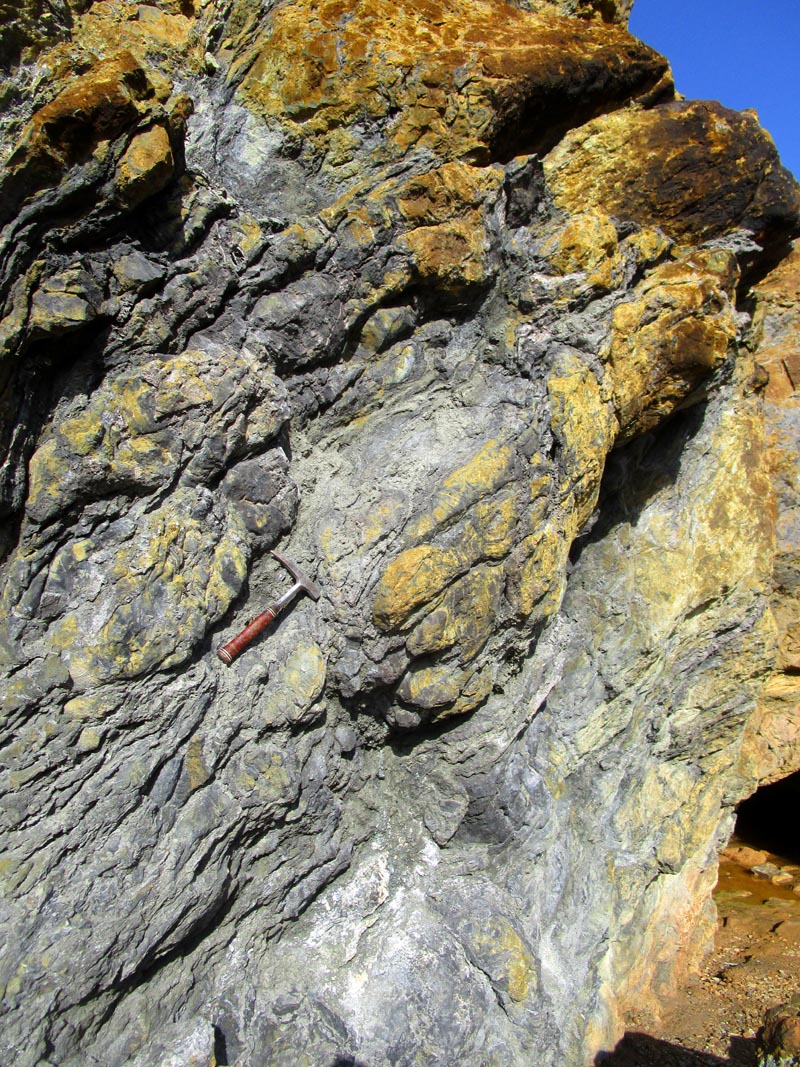 Outcropping pyrite ore in the Parys Mountain open pit, Anglesey, Wales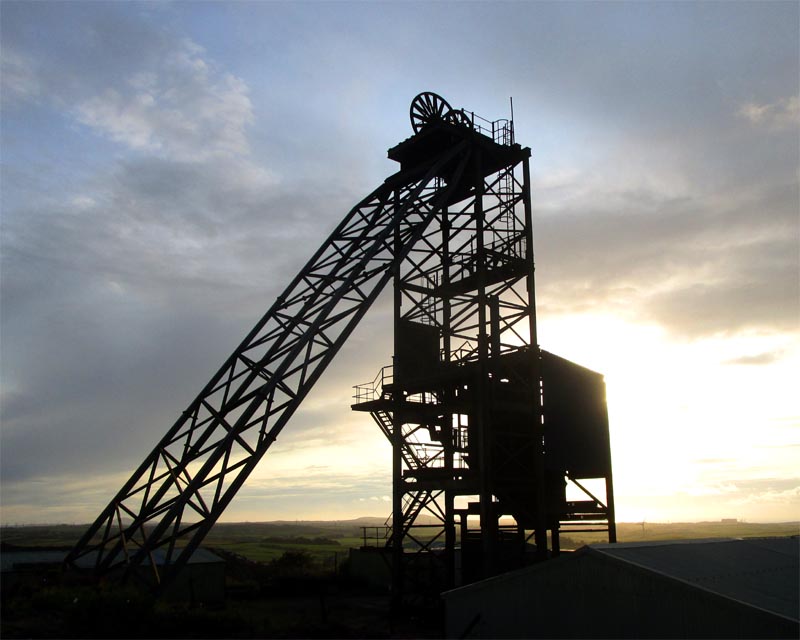 Parys Mountain Mine, modern shaft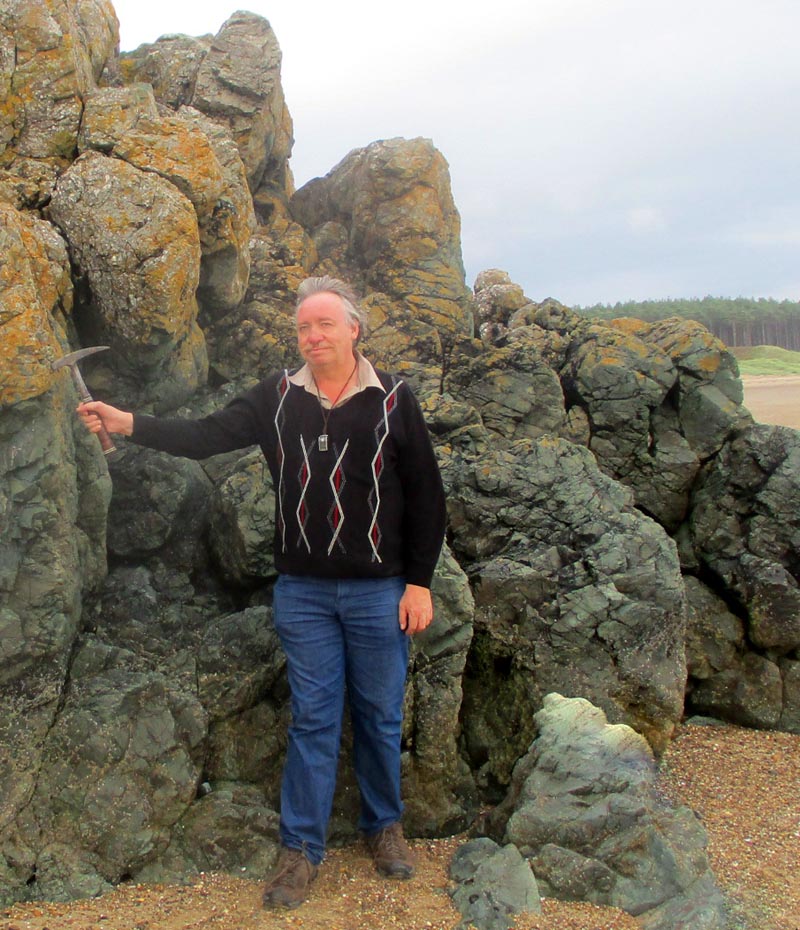 580 million year old pillow lavas on Llanddwyn Island, Wales (I love pillows !)
Visiting Dinorwic und Blaenau Ffestiniog with the largest slate mines and quarries in the world we made our way to the south, stopping at some more places of importance to industrial revolution and the gold mines of Dolgellau and Dolocauthi.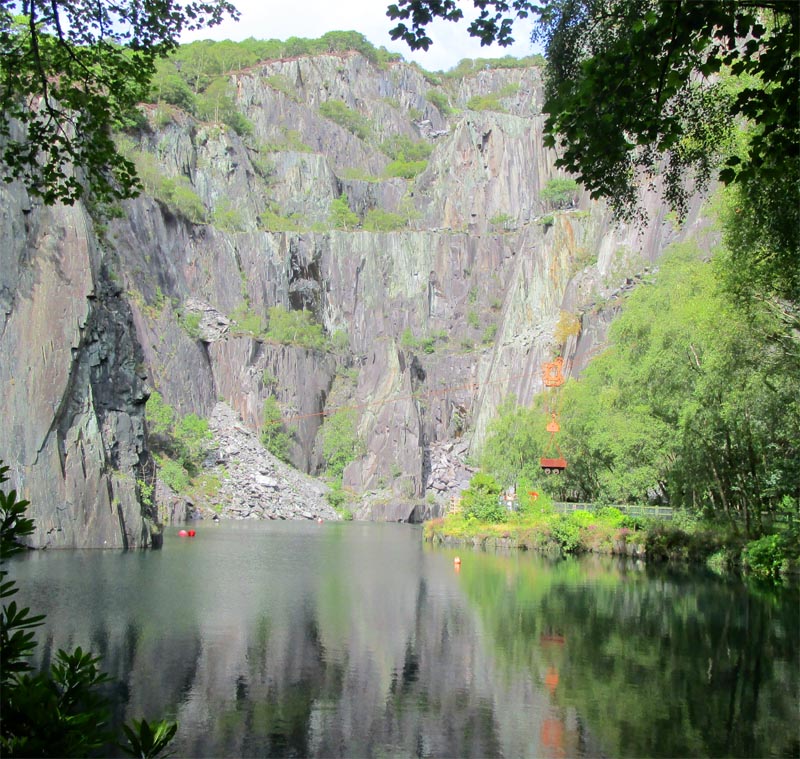 Ehemaliger Schieferbruch "Vivian" bei Dinorwic, ist Teil eines der größten
Schieferbergbaureviere der Welt
In South Wales we stayed for several days and again we were surprised amnd marveled how much this lttle piece of land has influenced the early economy of the world as we know it : Be it the successful steel making from phosphate rich iron ore at Blaenavon, be it the once mighty coal industry, who helped together with copper from Anglesey and tin from nearby Cornwall to fit the ships of the Royal Marine, or be it the two extremely useful inventions of the tin can or the first tram way : all happened here in South Wales.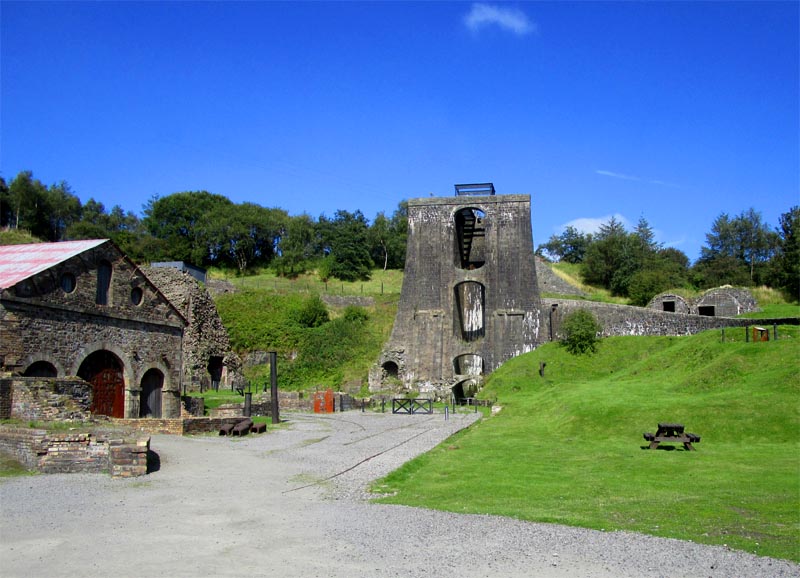 Blaenavon furnace with water lift: first place to produce steel from phosphate - rich iron ores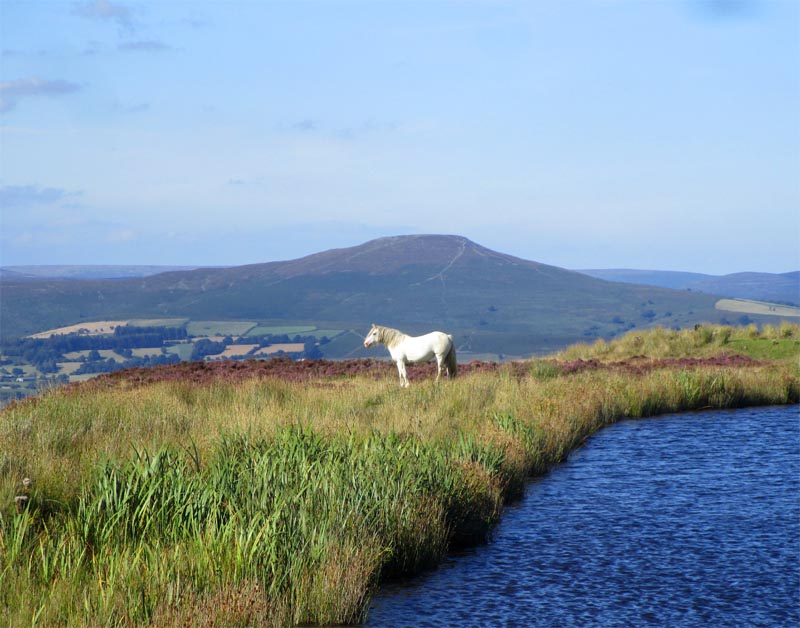 Old furnace lake near Blaenavon, Southern Wales
Finally South Wales is extremely rich in limestone karst areas with numerous caves of impressive dimensions. Many of these great caves were discovered and researched by SWCC = South Wales Caving Club, based at Penwyllt in the Brecon Beacons National Park. Back in 1995 we - my wife and our then 2 month old daugther - were honoured to be guest of the SWCC for several days and I had the opportunity to visit a small part of the 60+km long Ogof Ffynnon Ddu cave right next to the SWCC cottage. It was a great pleasure for me to visit the SWCC 24 years later again and delve a bit into the past, see following picture, taken by Martin Hoff in the "Big Room near the Entrance" in OFD.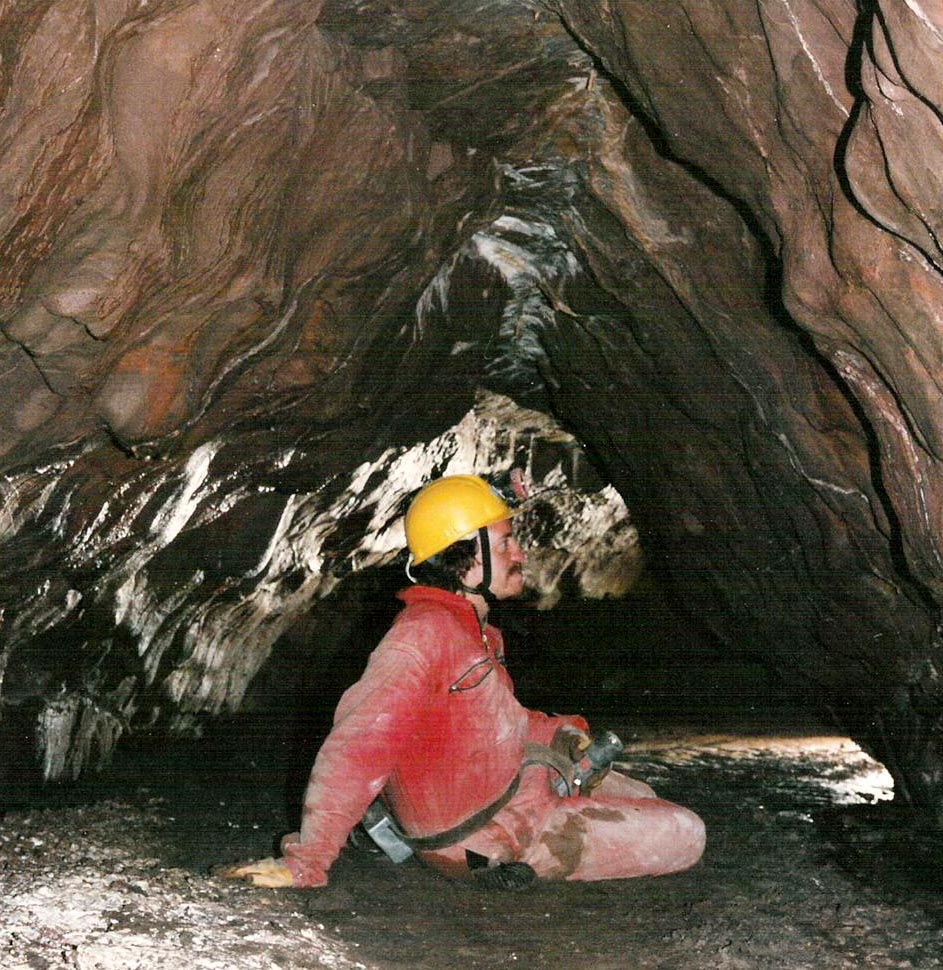 A view into the past : a much younger Thomas Krassmann, caving in Ogof Ffynnon Ddu in 1995
Concluding Wales is blessed with a stunning and beautiful landscape, richly sprinkled with the industrial witnesses of a bygone age. A bygone age, which sets the stage for our present culture and industry and enabled the scientific and cultural civilisation we all now mutually enjoy. Certainly worth a visit..! For a detailed map of our travel route please click here. For more information please dont hesitate to contact me.
January, 14th 2019 -- Slightly late, but : Happy New Year 2019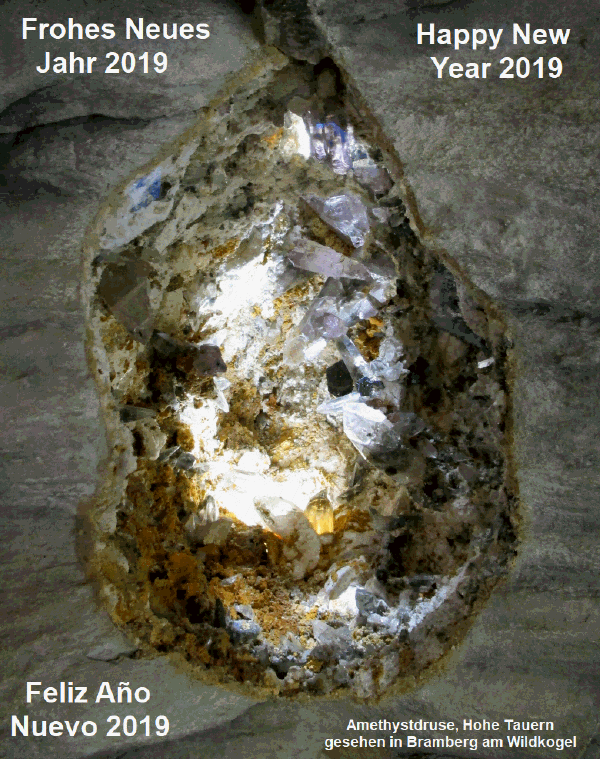 The second half of 2018 proved to be a rather wild ride with several visits to more exotic countries such as Northern Honshu / Japan in August and September 2018 and Tajikistan in the second half of December (thats why I am late with this update). In Tajikistan we travelled on the famous Pamir Highway, reaching a record altitude of 4300 meter ! Please find below a few impressions of this remarkable journey.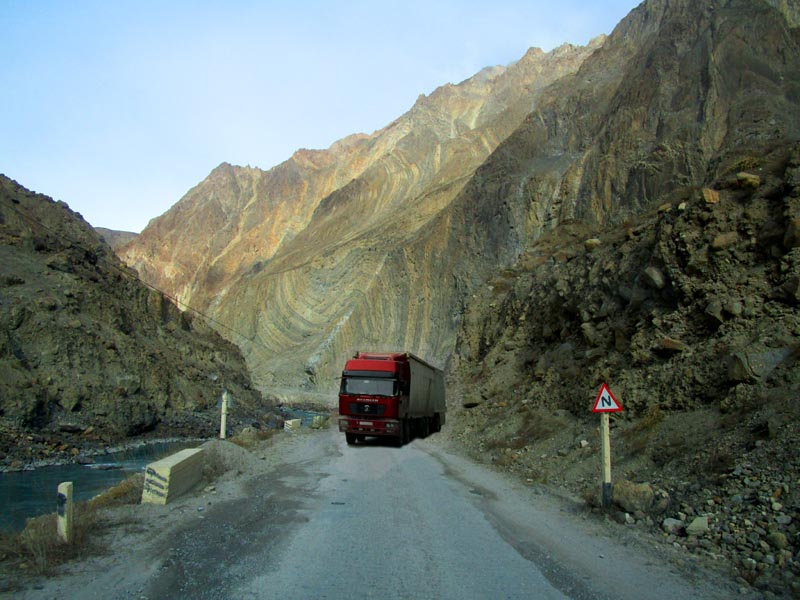 Pamir Highway at the Afghanistan border (left)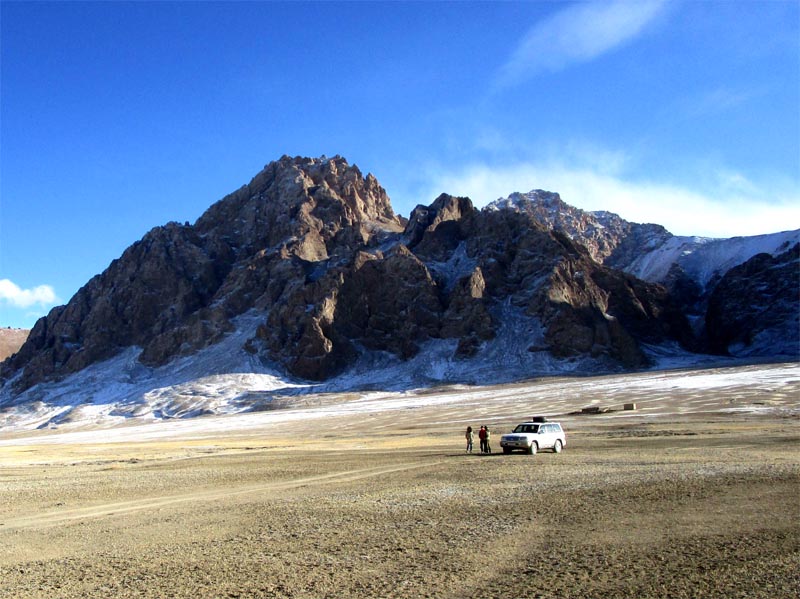 Pamir landscape at 4000 meter altitude close to Murghab, GBAO Region, Tajikistan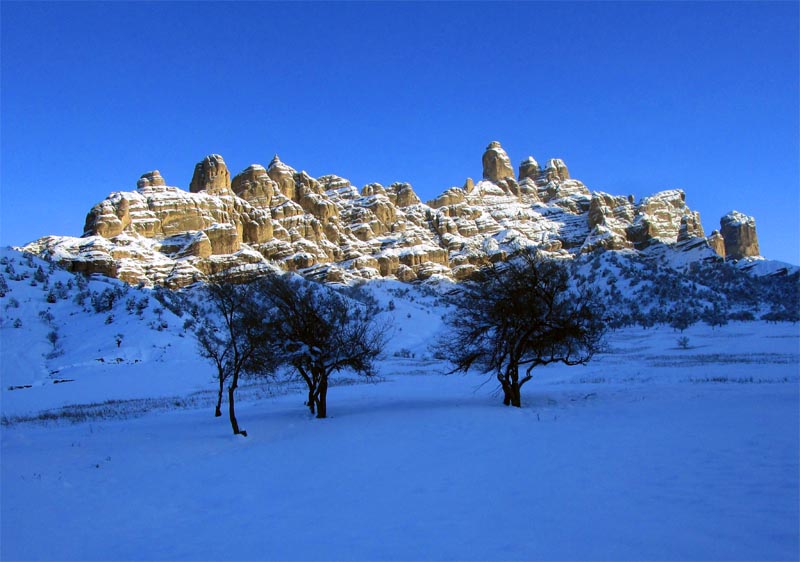 40 - women rocks Childukhatron north of Külob, Tajikistan
Talking of our Japan voyage, one of the most interesting highlights was travelling to the unique volcano caldera of Osorezan in Northern Honshu, where you can study the recent formation of a rich gold deposit in a buddhistic monastery setting. Please have a look at our photo report about this most interesting place, which you can find in our publication section or more directly here.
We also updated and extended our paper "Volcanic Emissions - Neglected Geohazards for our Energy Supply" see here - and updated Horst Bittners mining newsletters up to the end of 2018. Please look here and enjoy the reading.
May,25th 2018 - Update : Namibia, References and Mining Newsletter :
I am just coming back from my most recent travel to Namibia. which was centred on target generation of new projects and included a visit of some mines and mineral deposits I havent seen for some years. As it turned out many of the "old mines" in the Matchless Belt : Matchless and Otjihase; as well as in the Otavi Bergland : Tsumeb, Tsumeb - West, Kombat, Tschudi; are currently closed / on stand by and not working. Also some of the new uranium mines in the Swakopmund - Namib area such as Trekkopje and Langer Heinrich have been mothballed due to depressed uranium prices. Maybe this is a good thing rather, as uranium mining and the extensive tourism in the Swakopmund area do not fit together very well. Only Rössing mine and the new Husab mine are currently active. The following map gives an overview about the major active mines in Namibia, as of 2018.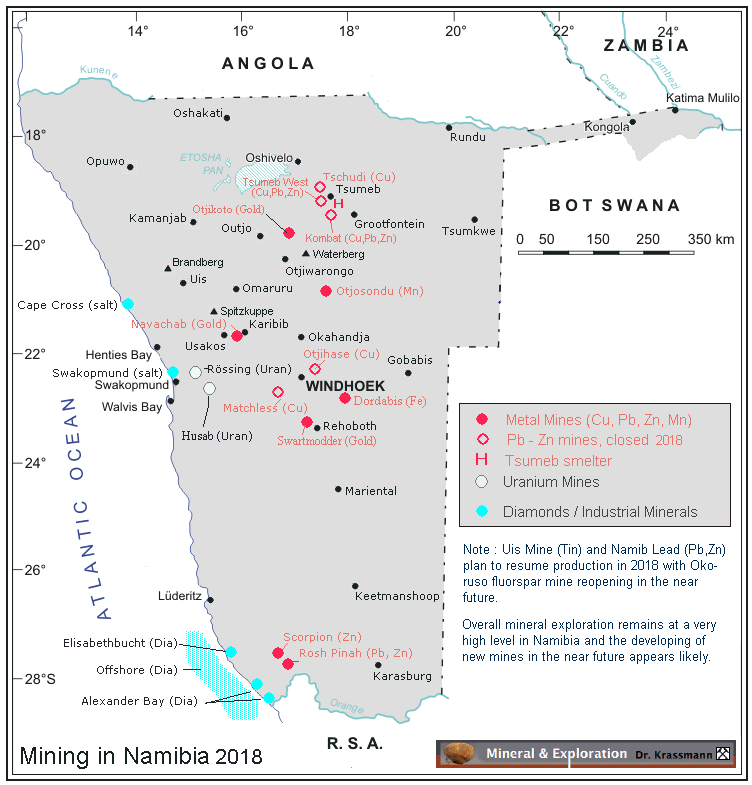 However, exploration of new mineral deposits remains high in Namibia and we expect some reopenings of formerly active mines such as Namib Lead Zinc mine and the Okoruso Fluorspar Mine in the near future. And there are even some more completely new mine developments in the pipeline.
Here are some impressions of our most recent Namibia trip for you :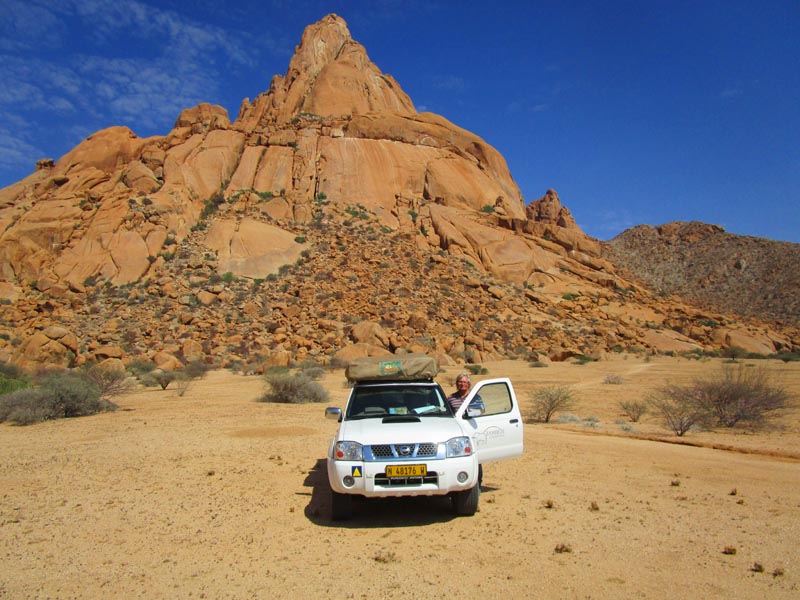 Granite - Scape at the Spitzkoppe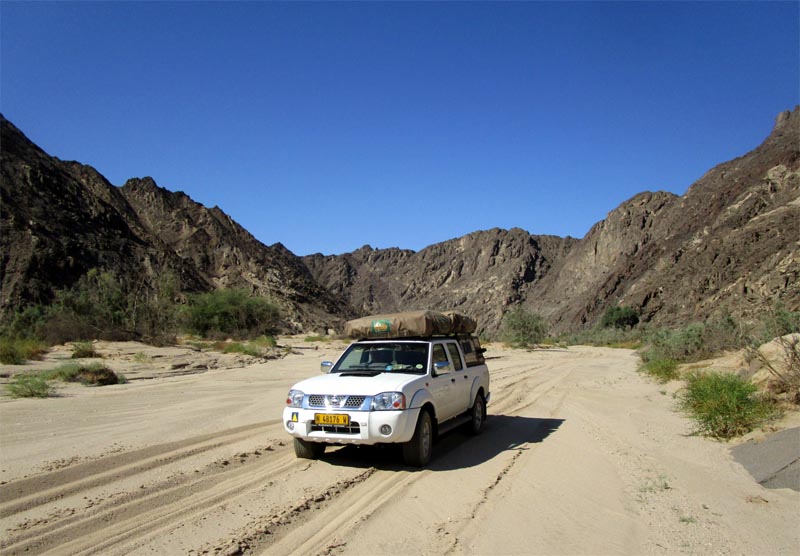 Drive through the "Moon Valley" of the Lower Swakop River,
which have been used as astronauts training ground for the lunar landings.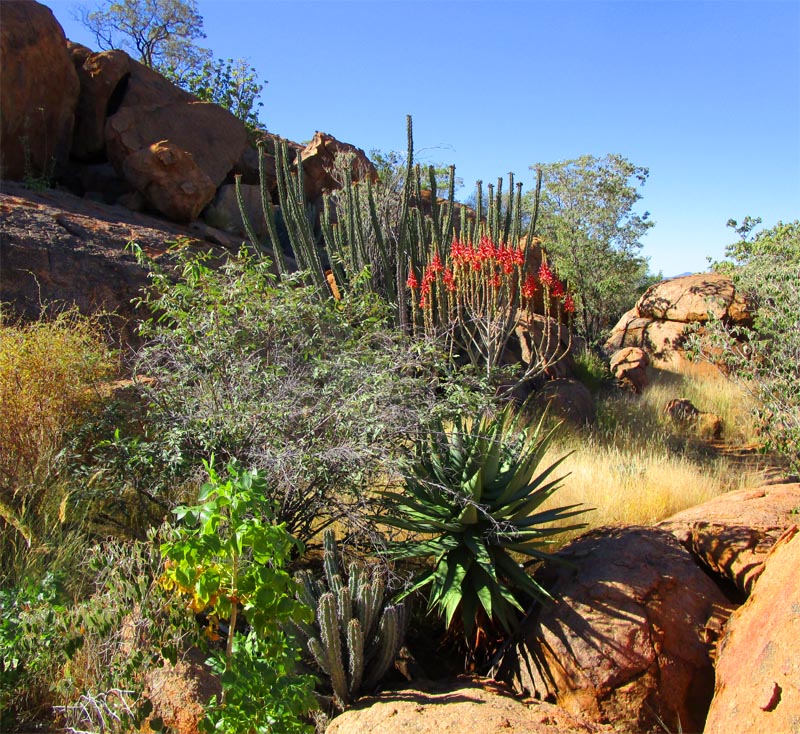 Blooming Desert after a good rainy season in the little known Otjohorongo - Mountains
We have also updated our List of References and the Archive of the Mining Newsletter written by von Horst Bittner.
March, 2nd 2018 : New Publications and Mining Newsletter online
Welcome in the meteorological spring of 2018...as the "Beast from the East" brings record cold, snow and wind chills all over Europe. Where is global warming when we need it...? But the cold has its beauty too, as you can see in this hoar frost image taken close to Bad Windsheim in Franconia.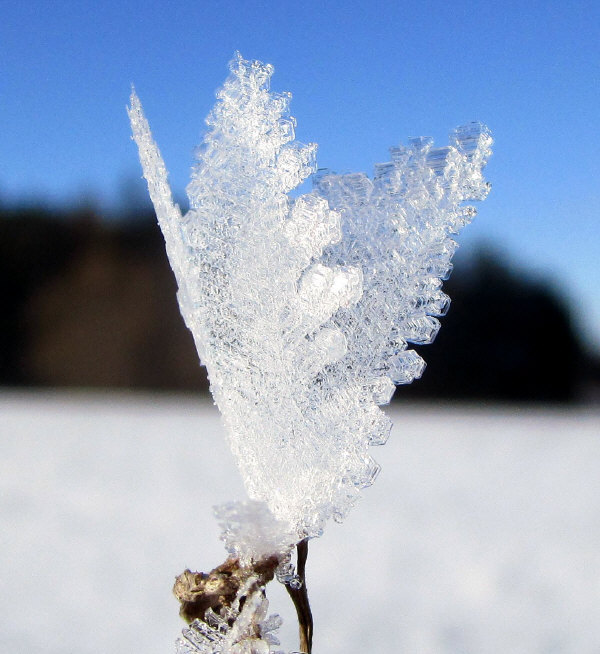 A number of mineral related projects has kept me busy during the last three months, so I am somewhat late updating this website with some stunning short publications from the Giant Crystal Project (go and google if you dare) I founded back in 2005. Please enjoy the crystal images and publications, which you can access here.
We also updated the always expertly written mining newsletters by our collegue Horst Bittner, which you can find here. As always we wish you enjoyable reading and appreciate any questions and feedback from you.
November, 17th 2017 : Oral Presentations about Gold Deposits / Gold Mining in Germany
In the last weeks I was invited to speak about gold deposits and gold mining in Germany at the Munich university, the Geozentrum Windisch- Eschenbach and at the Hessischen Landesmuseum in Darmstadt. Here are some images.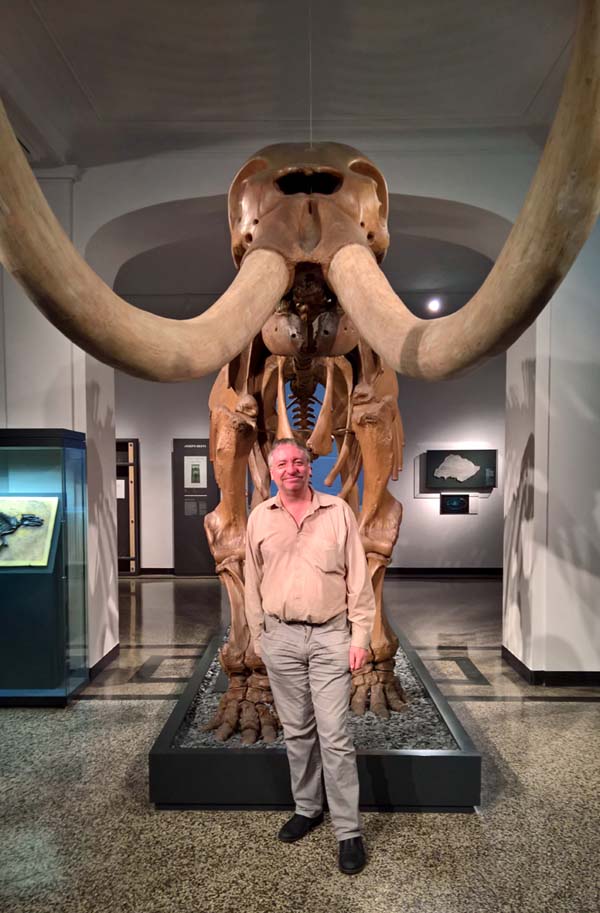 Under the mammoth shortly before opening the presentation, Hessisches Landesmuseum in Darmstadt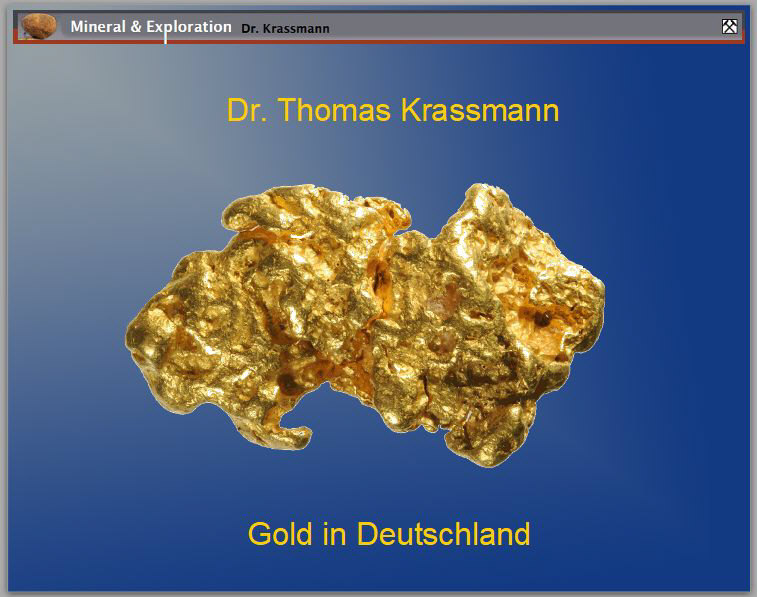 Talking about german gold deposits.
More information about gold deposits and former gold mining in Germany can be found on this website here. Or please do not hesitate to contact us directly with your queries.
August,22th 2017 : Scotland and Book Reviews 2017
I just got back from a geological trip through Scotland with its spectacular landscapes and sceneries. We managed to visit some outstanding geological and mineralogical sites like Fingals Cave on Staffa island, Iona, the famous lead mines of Leadhills - Wanlockhead, the new Cononish gold mine, the unigue Lochaline underground silica mine and the barite deposits of Strontian, where the metal strontium was first discovered.

Fingals Cave on Staffa Island, Inner Hebrides, Schottland
I wrote some reviews on new german geological and mineralogical books about lignite mining in Germany and UV - minerals recently. Please feel free to switch to our german site to read the reviews.
April, 18th 2017 : Easter - Update
Spring have arrived in Bavaria - though a late cold spell have also arrived just at the Easter weekend with a fair bit of snow - and its time for an Easter update. The first quarter of 2017 was filled with research on the mineral potential of Armenia, Tadjikistan, Turkmenistan and Uzbekistan, followed by work on gypsum deposits on the Arabian peninsula.
Some initial results of our lead - zinc study for the BGR (German Geological Survey) in the Ruhrgebiet has been released as poster presentatiom and can be assessed here with friendly permission by the BRG :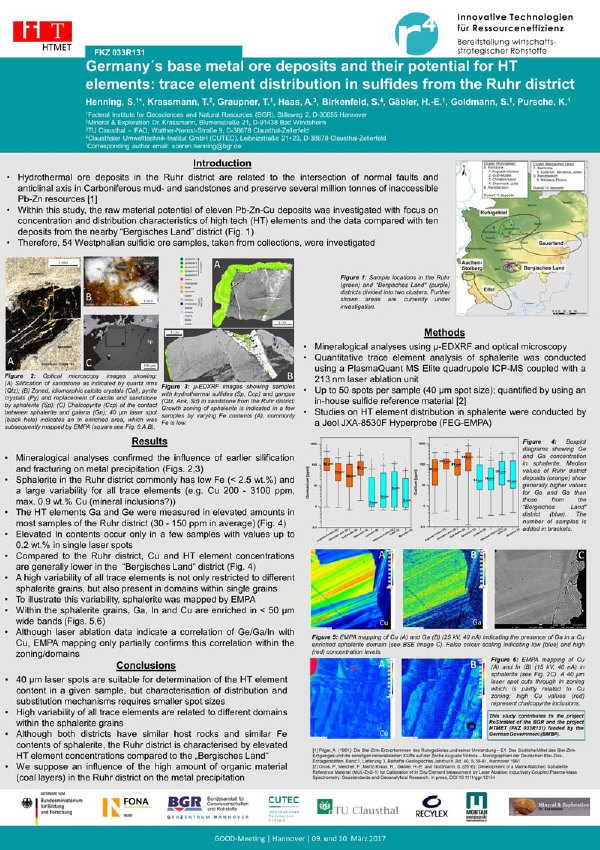 Initial results of the Ruhr Zinc Project. Please click image to get a larger pdf - file.
Again we updated our mining newsletter - courtesy of Horst Bittner - and you can find many recent news about german and international mining topics in these newsletters. Please click here for access.
This year we spent the Easter days at home in Franconia. What a beauty Franconia is, especially if you just return from a trip to the desert ! Have a look at this lovely decorated "Osterkrone" - Franconian Easter decoration placed on the local market squares, this one from Diepersdorf near Nuremberg.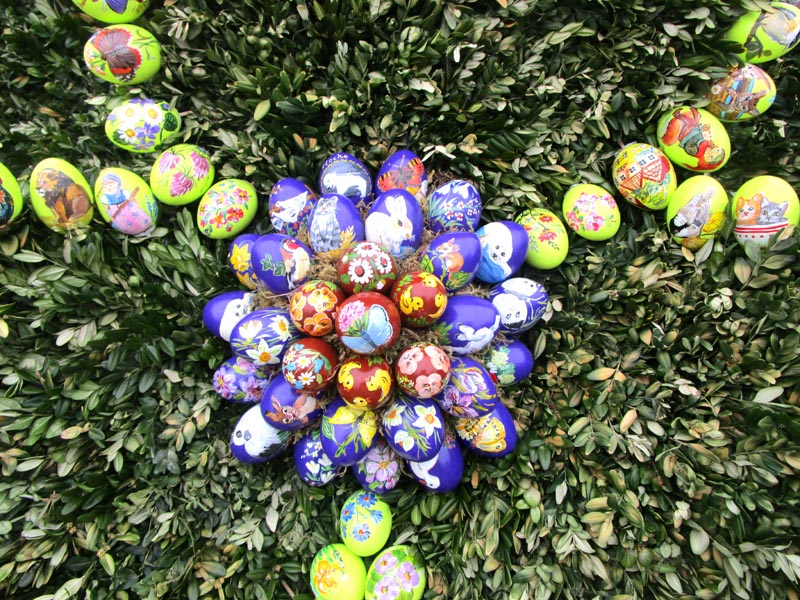 Easter decoration in Diepersdorf, Middle Franconia
We wish all our customers and friends a most pleasant springtime 2017 !
January, 9th 2017 : Happy New Year 2017!
We wish you all the best for the New Year 2017 : health, personal success and a peaceful 2017 !
Again we have published a new geo-themed calendar for your enjoyment. Please visit our new Desktop Calendar Geoscapes 2017, more details of which you can find here. Any of the selected thirteen (title + 12 months)images can be downloaded as desktop background / wallpaper to your computer and used freely and free of charge. Please dont hesitate to share any of the images with your friends and colleagues. We appreciate your feedback, which you can send us here. Enjoy the images !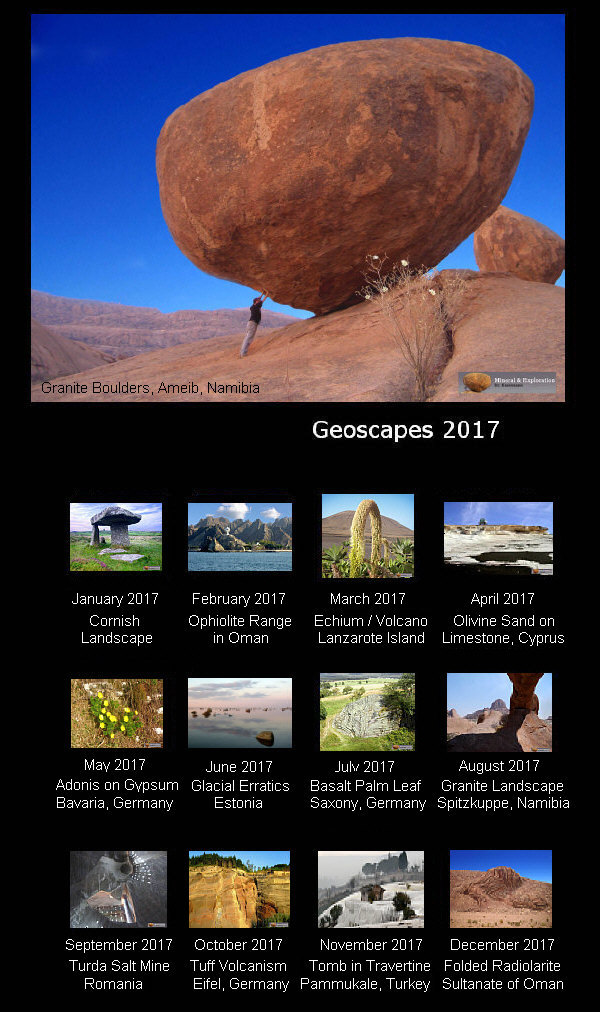 November, 4th 2016 : News and Updates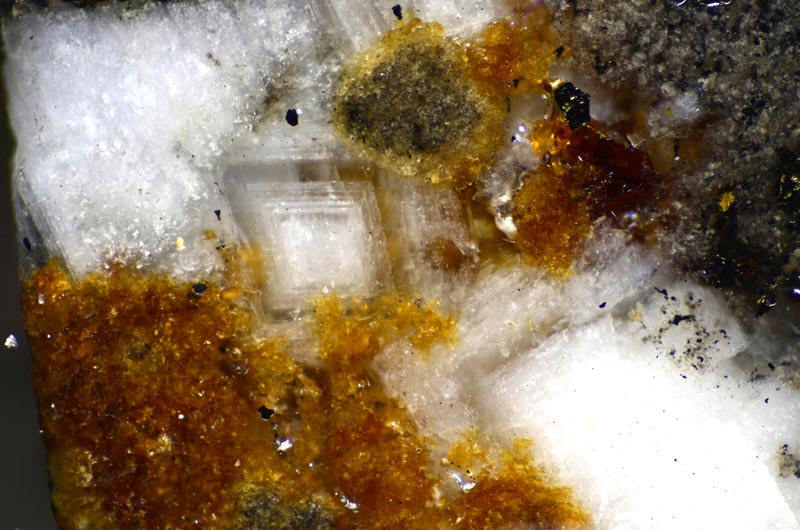 Ore Microscopy : Light yellow sphalerite replaces zonar calcite and sandstone grains, Osterfeld colliery, Ruhrgebiet, Germany
The second half of 2016 brought some new interesting projects, such as a detailed survey on lead - zinc mineralization in the Ruhrgebiet, Northern Germany. While the Ruhrgebiet is famous for its coal mining industry, a number of little known, but economically important lead - zinc vein mineralisation are present in this area as well. During ore microcopy work we came across some truly aesthetic sections, such as the sphalerite replacement ore shown above.
We updated the Mining Newsletter section and you can now read and freely download these newsletters up to the 40th week of 2016. There are also two new publications available : A short field trip guide covering copper and gold mining in the Kitzbühel and Rauris / Gastein valleys in Northern Austria and a photo report about the truly breathtaking Turda Salt Mine in Western Romania, we visited in August of 2016.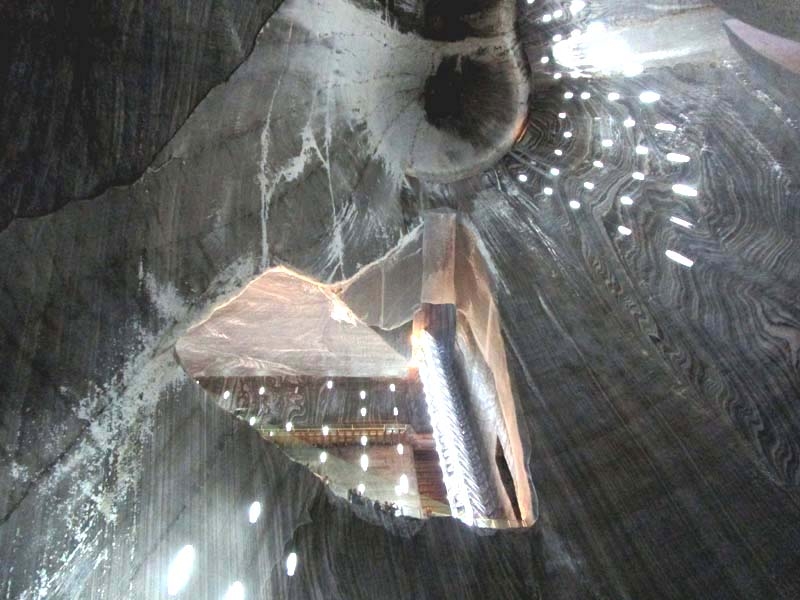 View from below into the bell shaped Theresia salt chamber, Turda salt mine, Romania
Currently we are in the process to update our publications and add english summaries to all of them. So please feel free to check back often in the coming weeks for a lot of updated papers of ours.
July, 12th 2016 : Mid Year - Update
Hard to believe, but the first half of 2016 is already over ! Time for a short Mid Year - Update of our activities so far :
In the last months we had the opportunity to take a closer look into a huntite deposit in Western Turkey. Huntite is a little known carbonate mineral, which due to its extremely whiteness and light weight is used as a high quality flame retardant filler in plastics and rubbers. Luckliy I was also able to visit the famous thermal sinter terraces of Pammukkale once again, this time in rainy weather.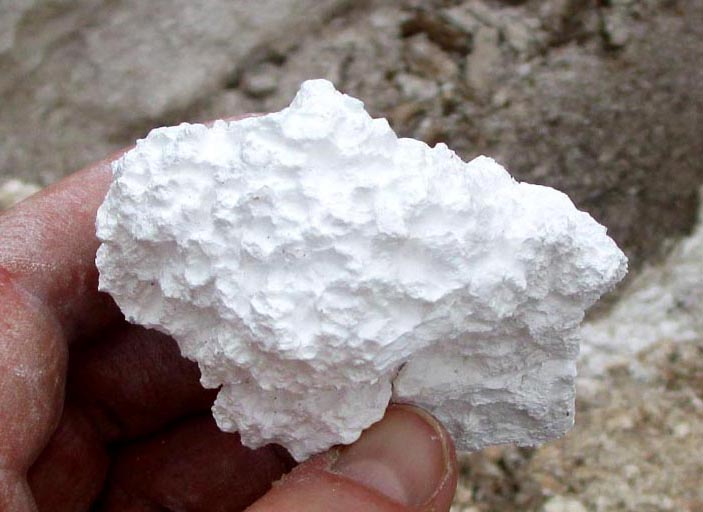 Super white huntite from Denizli area, Western Anatolia, Turkey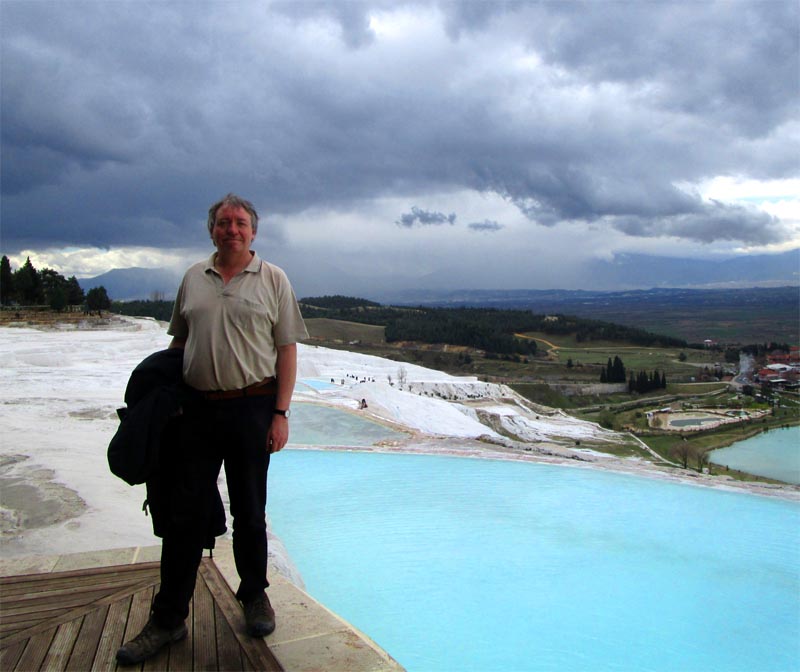 Thermal sinter terraces of Pammukkale with rain clouds, Western Anatolia, Turkey
Other projects in the first half of 2016 included a desk top study about talc potential in Africa as well as looking for sphalerite (zinc sulphide) samples for detailed assaying in the Ruhr Area. For more information about huntite, talc and lead - zinc ores in the german Ruhrgebiet please feel free to contact us here.
April, 14th 2016 : BAUMA 2016 and Mining Newsletter
Its BAUMA 2016 time. Please find below some impressions from our visit to the largest building-,construction- and mining machinery fair in the world in Munich this week. Always a great experience and eye opener !
Since more than 5 years our collegue Horst Bittner publish a weekly mining newsletter, covering a wide range of mining related topics on a global scale. Now we are offering these information packed mining newsletters as free download for your perusal. Please go to the new "Mining Newsletter section" to download the most recent numbers.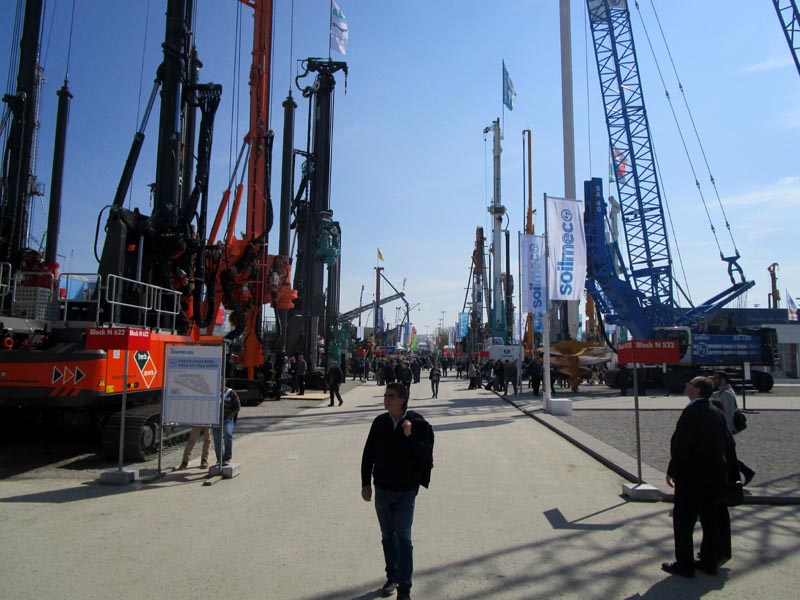 BAUMA 2016 at the inauguration day, still without hustle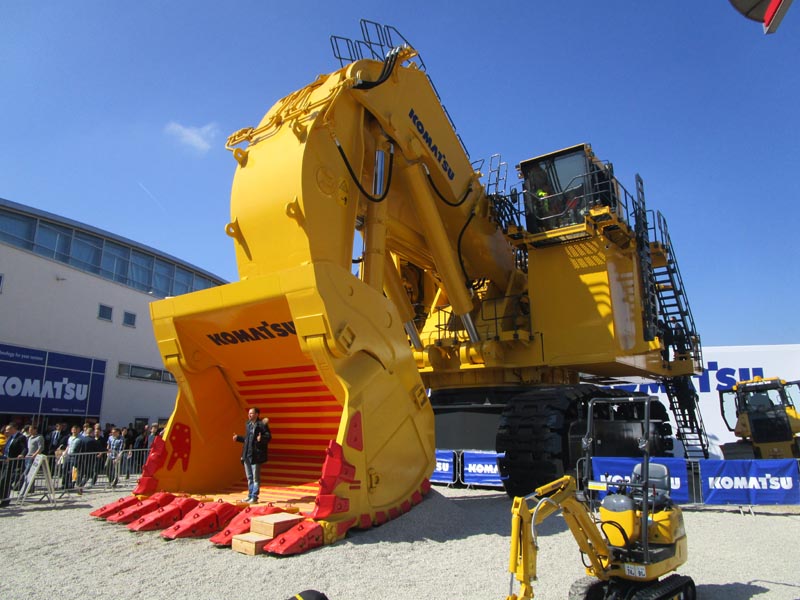 KOMATSU K 7000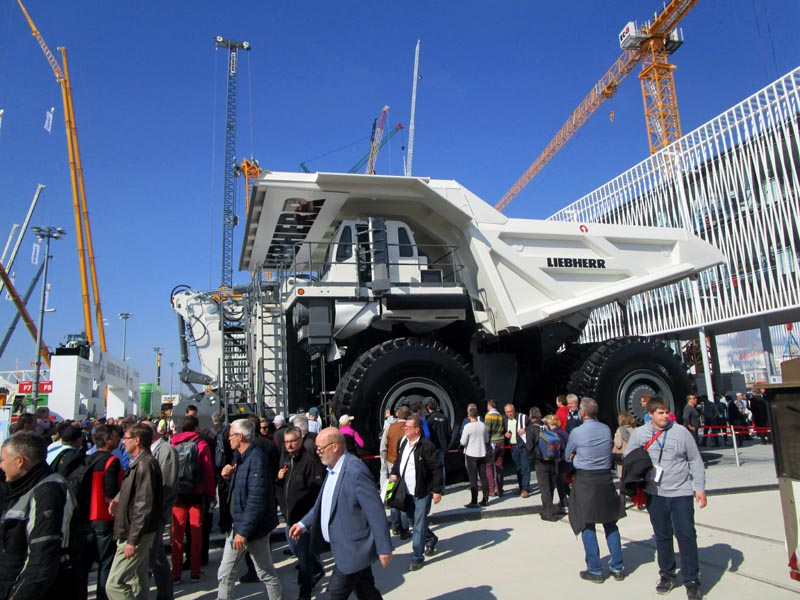 LIEBHERR T264, with lots of visitors
January, 1st 2016 : Happy New Year 2016!
We wish you all the best for the New Year 2016 : health, personal success and - most important - a peaceful 2016 !
Today we present you our new Desktop Calendar Geoscapes 2016, more details of which you can find here. Any of the selected twelve images can be downloaded as desktop background / wallpaper to your computer and used freely and free of charge. Please dont hesitate to share any of the images with your friends and colleagues. We appreciate your feedback, which you can send us here. Enjoy the images !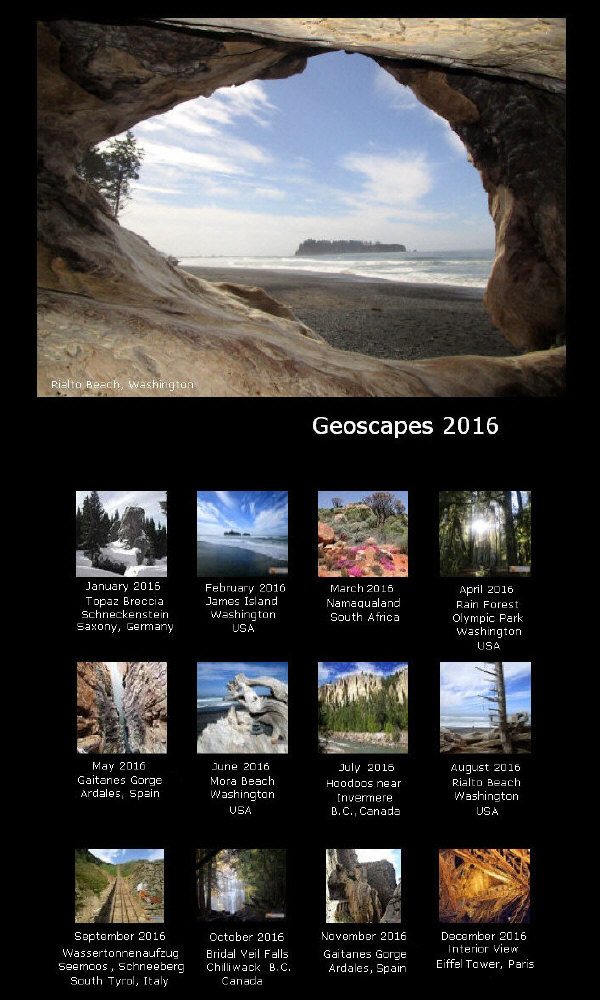 December, 21th 2015 : Merry Christmas 2015 !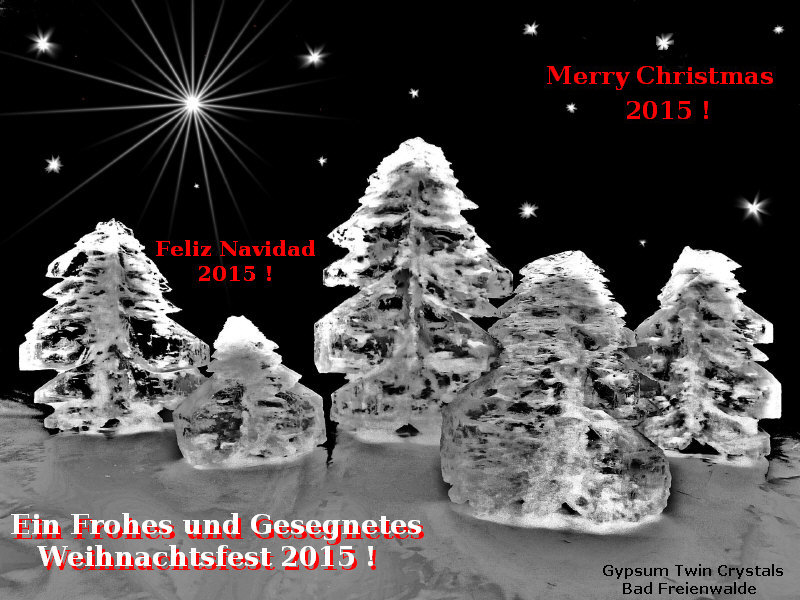 We wish all clients and friends a Merry Christmas 2015. May the health and success be with you in 2016 ! The Christmas Tree 2015 image above shows twinned gypsum crystals from the Bad Freienwalde area, Brandenburg, Eastern Germany. The crystals have been carefully arranged to form a spectacular Christmas Forest. Photo kindly supplied by Mr.Gerhard Rötz.
September, 30th 2015 - 1. Meggener Rohstofftage / Workshop PERC-Reporting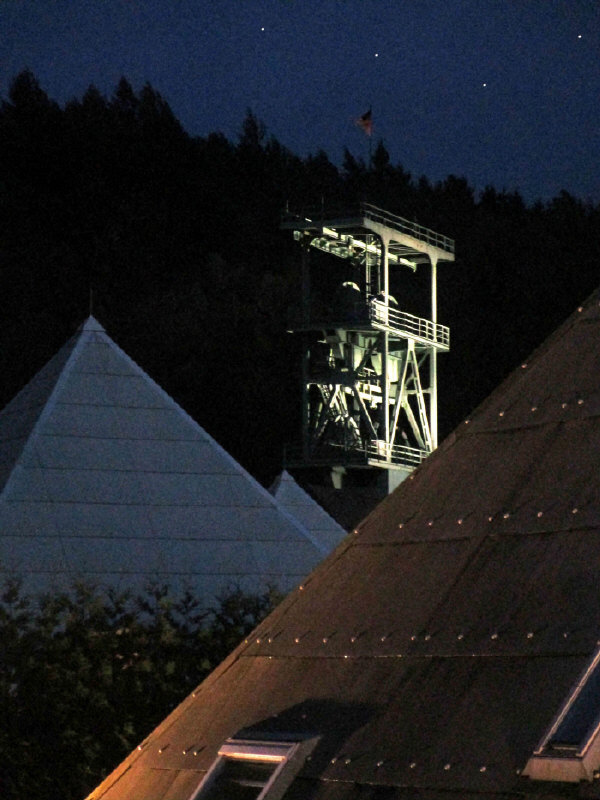 Sicilia shaft Meggen
The Meggen mine in the Sauerland / Central Germany was one of the most important European baryte & zinc mines until its closure in 1992. This year the mining geology tradition of Meggen was revived by the 1. Meggener Rohstofftage from September, 17th to September, 19th 2015. The symposium was held in the Sauerland - Pyramiden and was jointly organized by GEA / Sachtleben and Tracto-Technik under the patronage of BDG, the german professional organisation of geologists. During the first day a workshop was held on Best Practice PERC, NI43-101 and JORC reporting, while on the second day a number of presentations were given on current mineral exploration projects in Germany.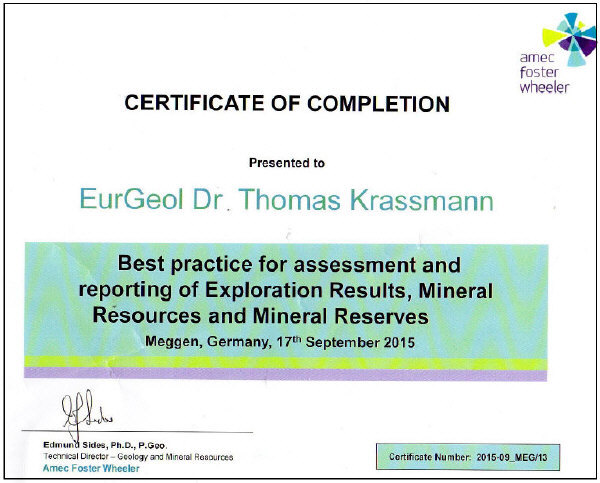 Best Practice Reporting Workshop Certificate
Meggen evenings were spent with leisure social gathering and ample exchange of experiences on the premises of the historic Sicilia shaft buidling, which is the main former hoisting shaft of the Meggen mine, see image above. On the morning of September, 19th there was a half day field trip with the opportunity to visit the Meggen Erbstollen = water adit with adjoining water beneficiation plant or a visit of innovative horizontal drilling systems of sponsor Tracto-Technik. Concluding the 1. Meggener Rohstoffrage was an excellent and well-visited event, which will be followed by the 2. Meggener Rohstofftage in September 2016. Many thanks and Glück Auf for the organisation committee ! More information on the 1. Meggener Rohstofftage can be found on the BDG homepagehere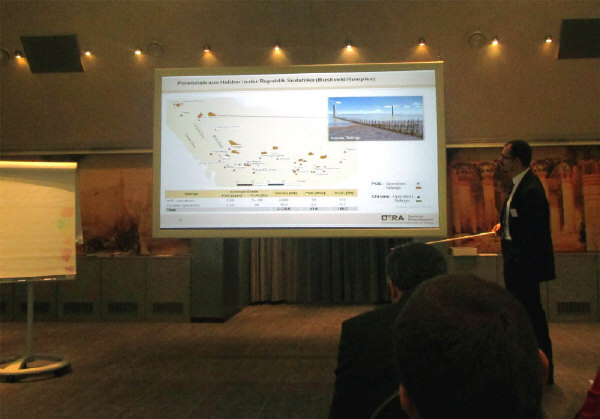 Presentations in the Sauerland Pyramiden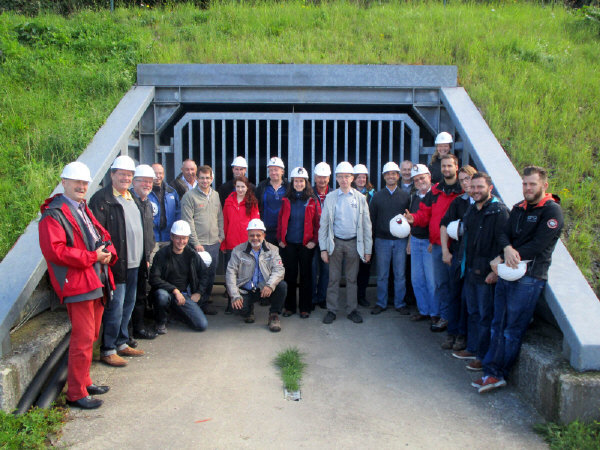 Group of Mining Experts in front of the Meggener Erbstollen / water adit
May, 6th, 2015 - Visit to Paris
Recently I visited Paris ! A fascinating town and worth a visit indeed. Fortunately I had the time and opportunity to see some amazing things, not just minerals. Please enjoy the images below

A noble metal indeed : Collection of the first standard metre bars in platinum
in the Musee des Arts et Metiers in Paris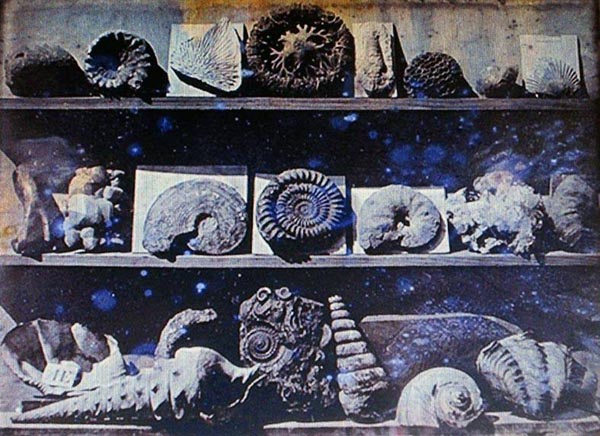 One of the first photos ever is a 1839 daguerreotype taken by Daguerre himself and
imaging a fossil collection! On display in the Musee des Arts et Metiers in Paris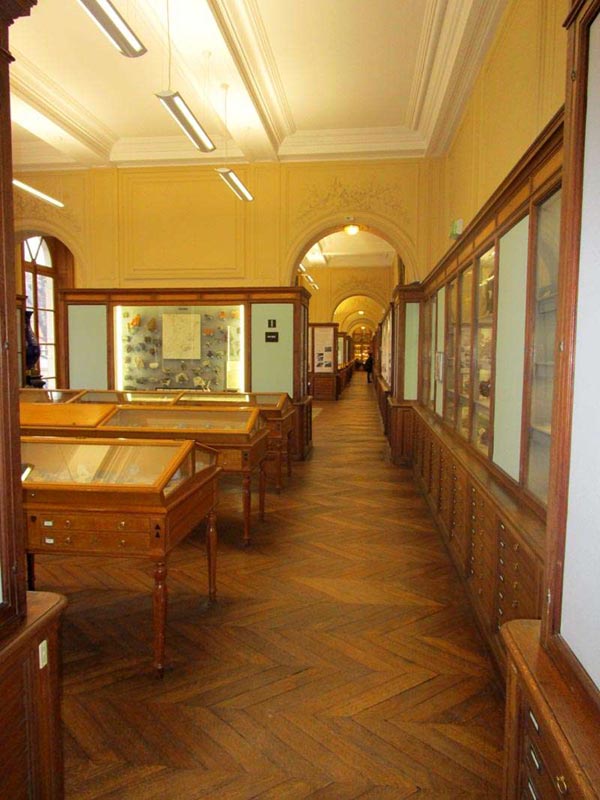 The famous mineral collection of the Ecole de Mines, now called Mines ParisTech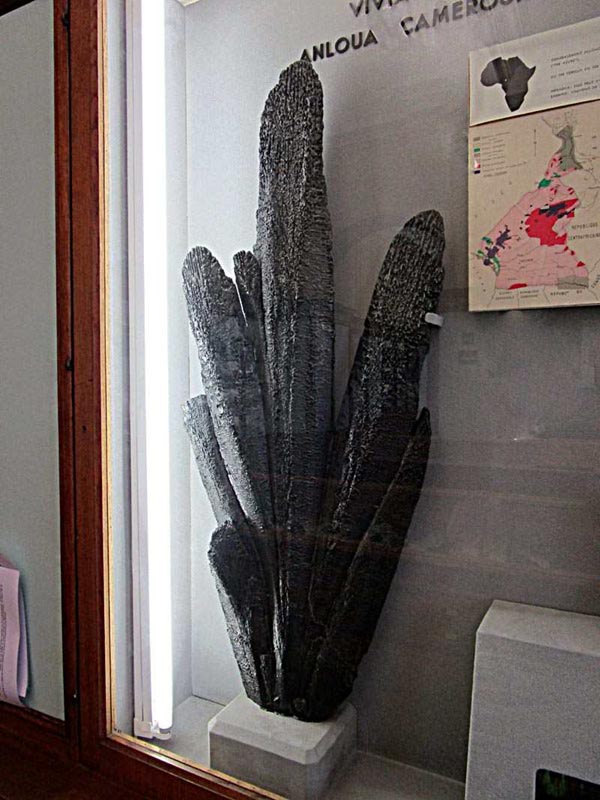 Giant vivianite crystals up to 2 meter size on display from the famous Anloua
swamp locality in Cameroon, excavated by Ecole de Mines mineralogists.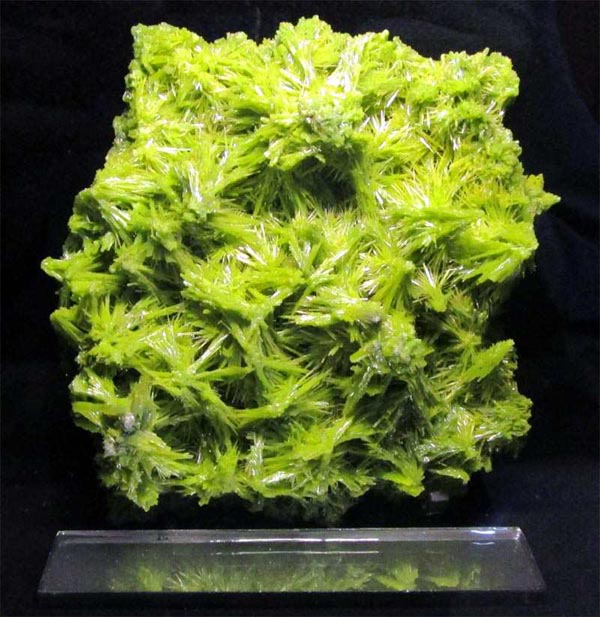 Spectacular 30 cm sized pyromorphite specimen from the
El Horcajo Mine, Castile-La Mancha, Spain, Ecole de Mines Collection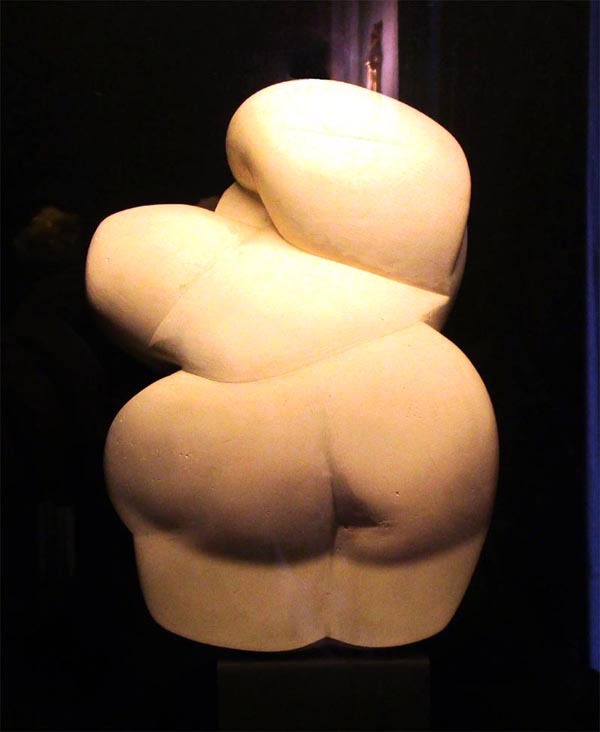 Not the Venus de Milo, but a 30 cm large curiously formed
sepiolite concretion from Eskisehir area, Turkey, Ecole de Mines Collection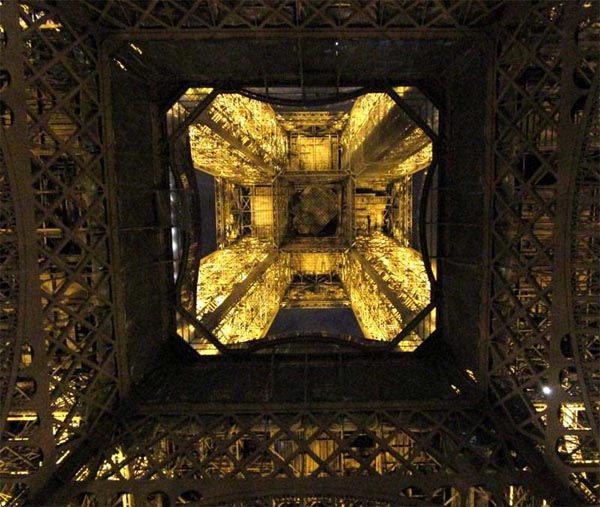 The Eiffel Tower at night, seen from below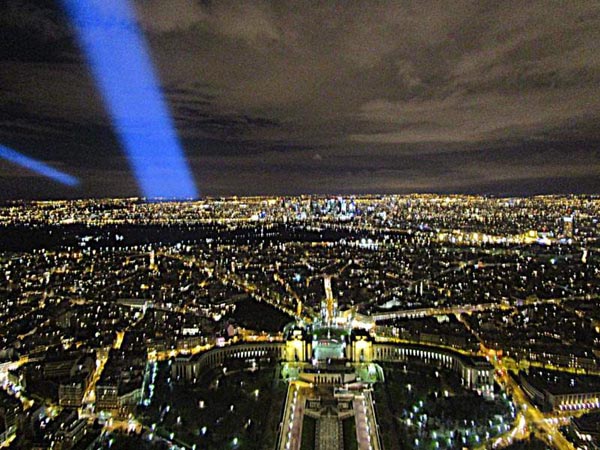 Death rays of the Aliens ? Looks like, but these are just rotating light rays from the top of the Eiffel Tower at night
March, 6th, 2015 - 5 Years Mineral & Exploration online ! - New Geo-Galleries
Five years ago, in March 2010, this website went online, at that time much smaller than now. Five years and many interesting projects later we celebrate this 5 year mark with publishing for the first time images from our large geo-archive. Please click here to access our new geo - galleries and enjoy. Your feedback is highly appreciated.
January 23th, 2015 - New Mineral Maps Tin and Antimony available
In December 2015 we had the opportunity to have a look at some mineral deposits in Albania, which is a geologically fascinating country with huge mineral potential. Here we show two photos of a massive sulphide mineralisation with typical blue copper sulphate weathering. Please also have a look at the new global tin and antimony maps mentioned above, which you can find in the map section of our Publication area.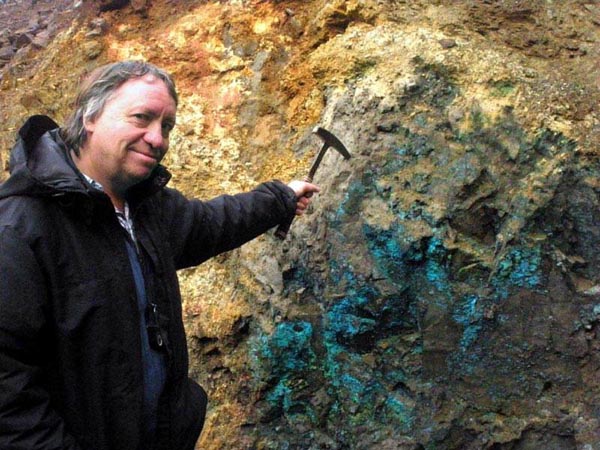 Copper Sulphate on Massive Sulphide, Albania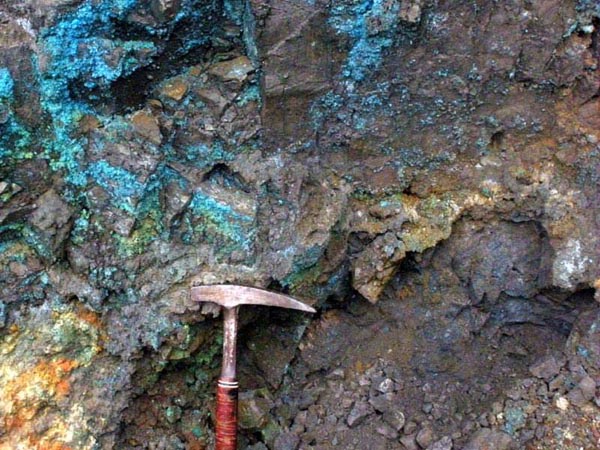 Copper Sulphate on Massive Sulphide, Albania
December 19th, 2014 - We thank all our Friends, Collegues and Partners for your friendly Cooperation in 2014 and wish you all a Merry Christmas and a sucessful and blessed New Year 2015 !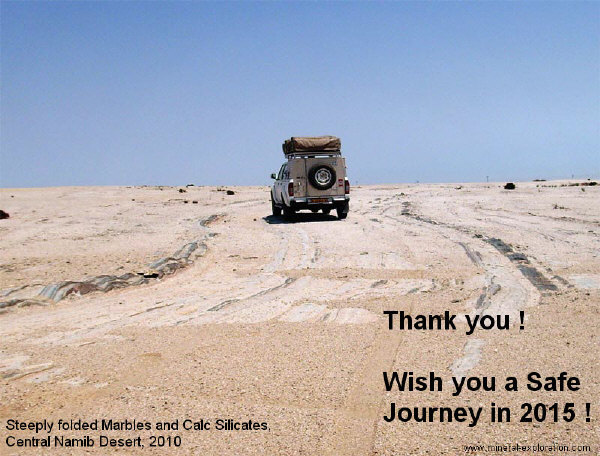 November 22th, 2014 - Major Website Update
In the last days we have done a bit of work on this website : A bit of updating here : see references, a bit of streamlining there and a lot of translation into spanish language thanks to fellow geologist Matthias Jurgeit. Matthias, thank you !
November 14th, 2014 - Kimberlite Cake !
A few days ago I celebrated my birthday ! The wife of a befriended spanish geologist made me a very special present : a Kimberlite Cake, with embedded diamonds !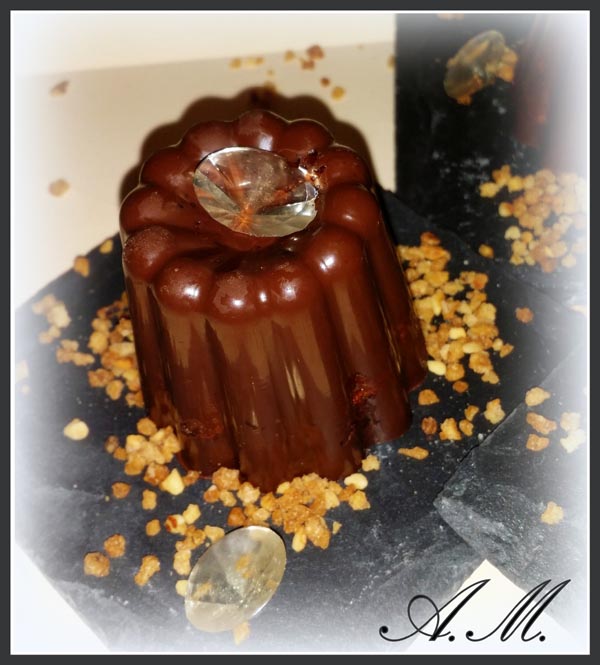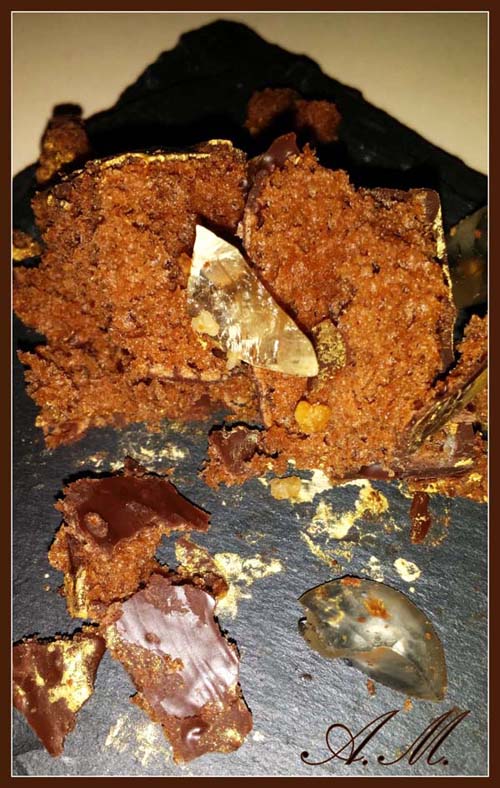 For more information about the cake and how to make it, please have a look at Lady Héloïse´s website at http://www.lacocinaromantica.com, where you can also find a lot more of lovely cakes. Buen Provecho !
October 29th, 2014 - New Publications and Presentations added :
About a month ago I gave a talk about the geology and mineral potential of Namibia in Bochum. You can find the online version of this presentation at our publication site or here and here. For shorter download times the large file has been split into two parts. Also added some material about giant olivine crystals in Seberged / Zabargad island in Egypt, giant salt cubes in the Merkers Mine, Thuringia , Germany and about equally giant vivianite crystals in Cameroon, all of which was originally written for the Giant Crystal Project back in 2005 - 2007. Enjoy the spectacular images !
October 20th, 2014 - Granites at Ploumanach, Brittany, France :
A few months ago we had the opportunity to visit some outstanding pillow lavas in Northern Cyprus (see below). This summer we were fortunate to see some extraordinary "pillow granites" in Brittany. The scientific term for these round structures, which are typical for granite weathering, is exfoliation. In german geology another perfectly fitting term is used "Wollsackverwitterung" which translates to "wool sack weathering". Indeed the granite often looks like wool sacks piled above each other.
While beautifully sculptured granites are not that rare, they are mostly found in inland areas far from the sea. Here we show some scenic examples from Ploumanach in Brittany. Enjoy !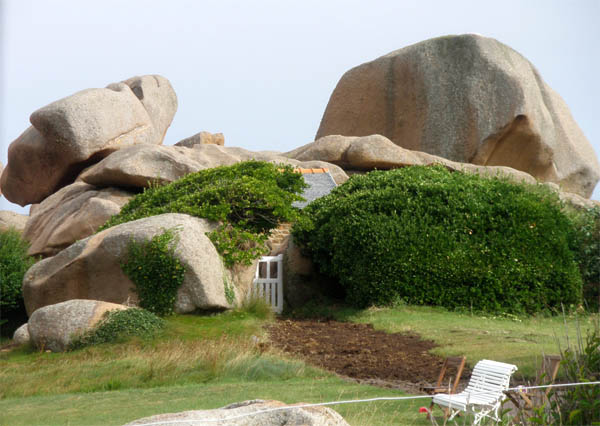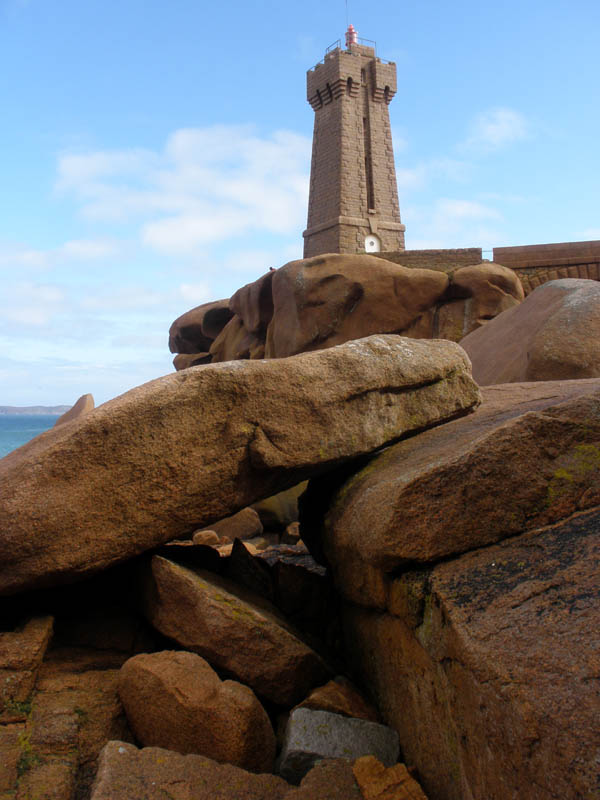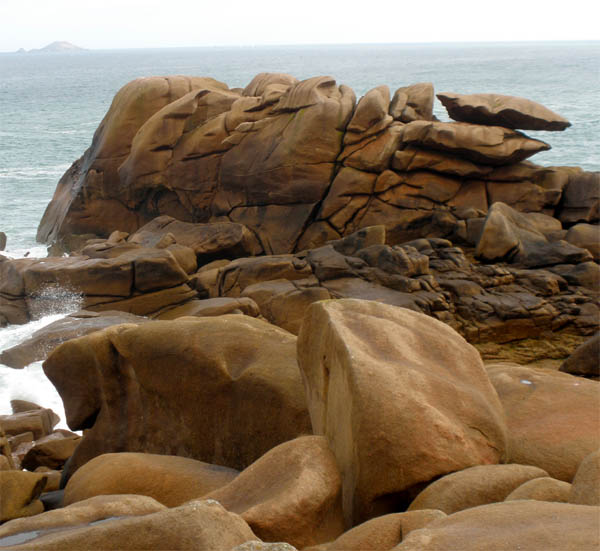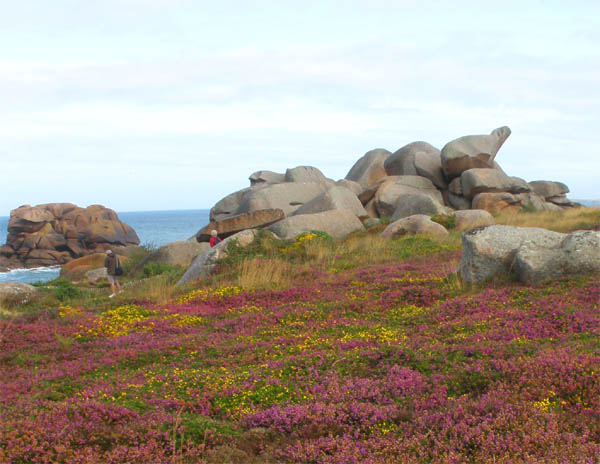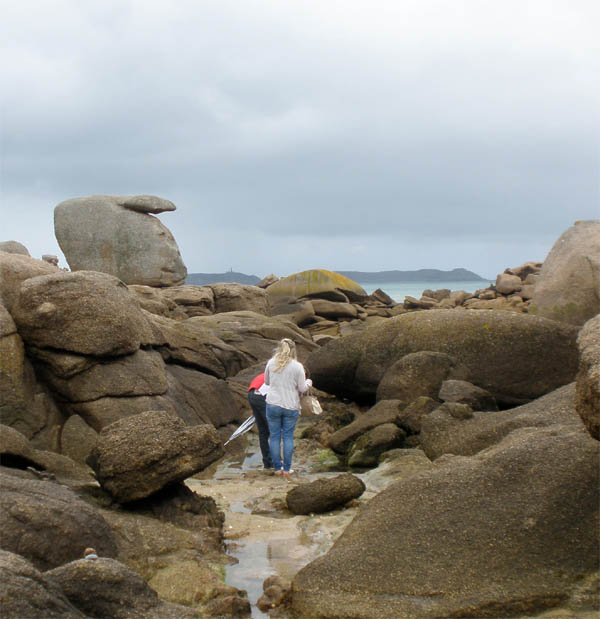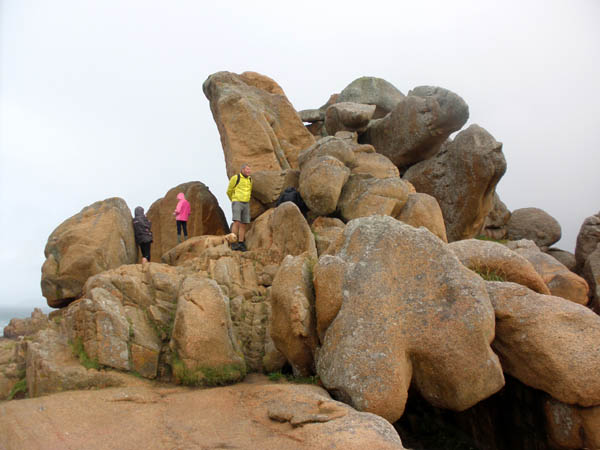 April 2nd, 2014 - We present our new ECO-MINE Economic Mineral Database :

For almost 10 years we have compiled a massive database covering the whole spectrum of mineral commodities, metallic-, non-metallic and energy mineral potential as well as about individual mines and regional mining information. ECO-MINE Economic Mineral Database currently hosts about 100.000 full text searchable data files, giving you easy access to a wealth of relevant mining and mineral related information. We are now able to offer search services of our ECO-MINE Database to a broader audience.
Please have a look at our Publication Site to see a presentation of ECO-MINE.
March 11th, 2014 - New mineral and mining publications and maps online :
Two new english language publications online about the Namaqualand / South Africa mineral deposits, based on a somewhat "historic" field trip in this region back in 1988 "Resource Appraisal, Target Generation and Exploration Methodology within the Namaqua Metamorphic Province" as well as a photo - report about a much more recent due diligence / assessment of antimony deposits in "The Cam Pha Antimony Belt in Northern Vietnam". There is also a new map available covering "European Potash Mines / Producers and Development Projects 2014". As always, please have a look at our publication site to see and read these map and papers.
February 22th, 2014 - Spectacular Pillow Lavas from Northern Cyprus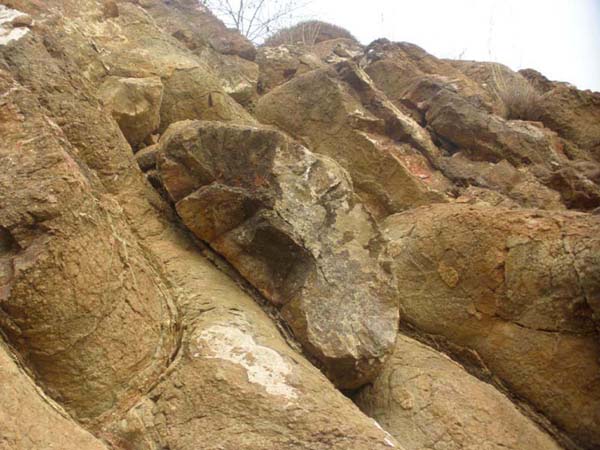 Pillow Lavas are basaltic lavas, which have formed by submarine lava flows, which solidified in a very typical manner called "pillow structures" or simpler "pillow lavas". While pillow lavas are a not so rare geological phenomen, most of the occurences are not really spectacular. However some weeks ago I had the opportunity to visit Northern Cyprus and came about a little known area around Balalankoy / Platanissos where there are virtually mountains of excellently developed pillow basalts in a text book like fashion! More, there is also a long fresh road cut running through this volcanic suite, exposing the whole geological sequence for about 2 kilometer length! Worth a visit and well worth some more geological research...there is even a gossan nearby indicating copper mineralisation. For more information please send us an email.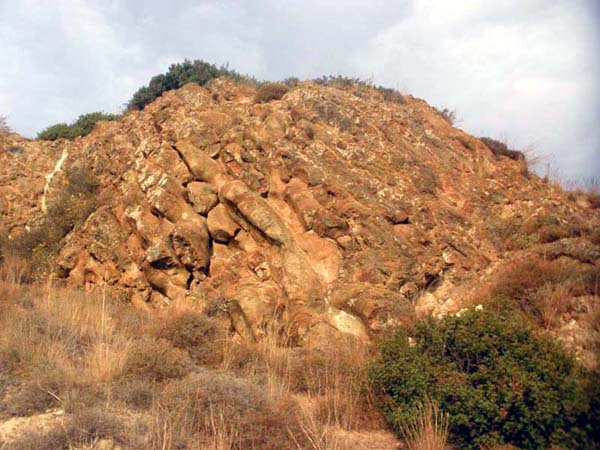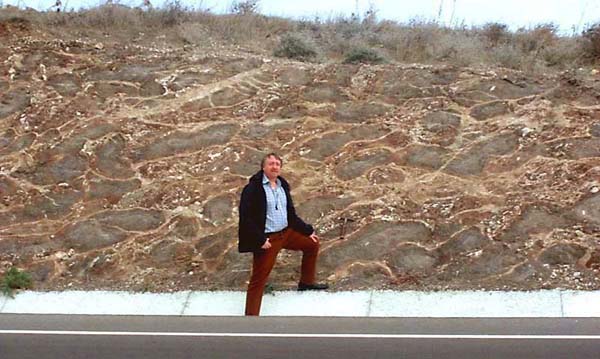 December 19th, 2013 - We thank all our friends, collegues and partners for your friendly cooperation in 2013 and wish you all a Merry Christmas and a sucessful and blessed New Year 2014 !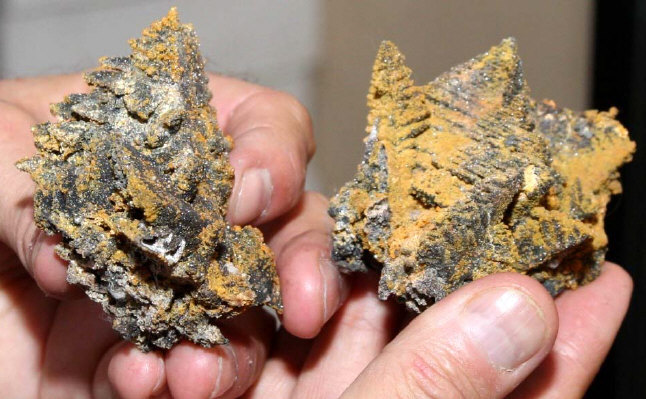 "Christmas Ore 2013" - Large Christmas Tree shaped Descloizite Crystals from Chah Mileh Mine, Isfahan Province, Iran; Photo : Jolyon Ralph, MindatOrg
November, 25th 2013 - Some new publications are available for reading and download :
A report on a field trip into the famous Rammelsberg Mine near Goslar, Harz Mountains shortly before its final flooding anno 1994 and a more general text about "What is an Exploration Geologist doing ?". Also there is a new map available covering Active Fluorspar Producers in Europe The author wishes happy reading ! Please click here, to see other available publications and maps.
June, 16th 2013 - Presentation "Metallic Minerals in Oman" in Muscat / Sultanate of Oman
Together with BRENK Systemplanung, Dr. Johannes Tacken anmd GUTech 2012 we assessed the mineral and mining sector of the Sultanate of Oman with the study "An Evaluation of the Mineral and Mining Sector of the Sultanare of Oman". Now we were invited to give a presentation on the metallic mineral potential in the Sultanate in Muscat on June, 15th. see following press release :
Presentation Dr. Krassmann in Muscat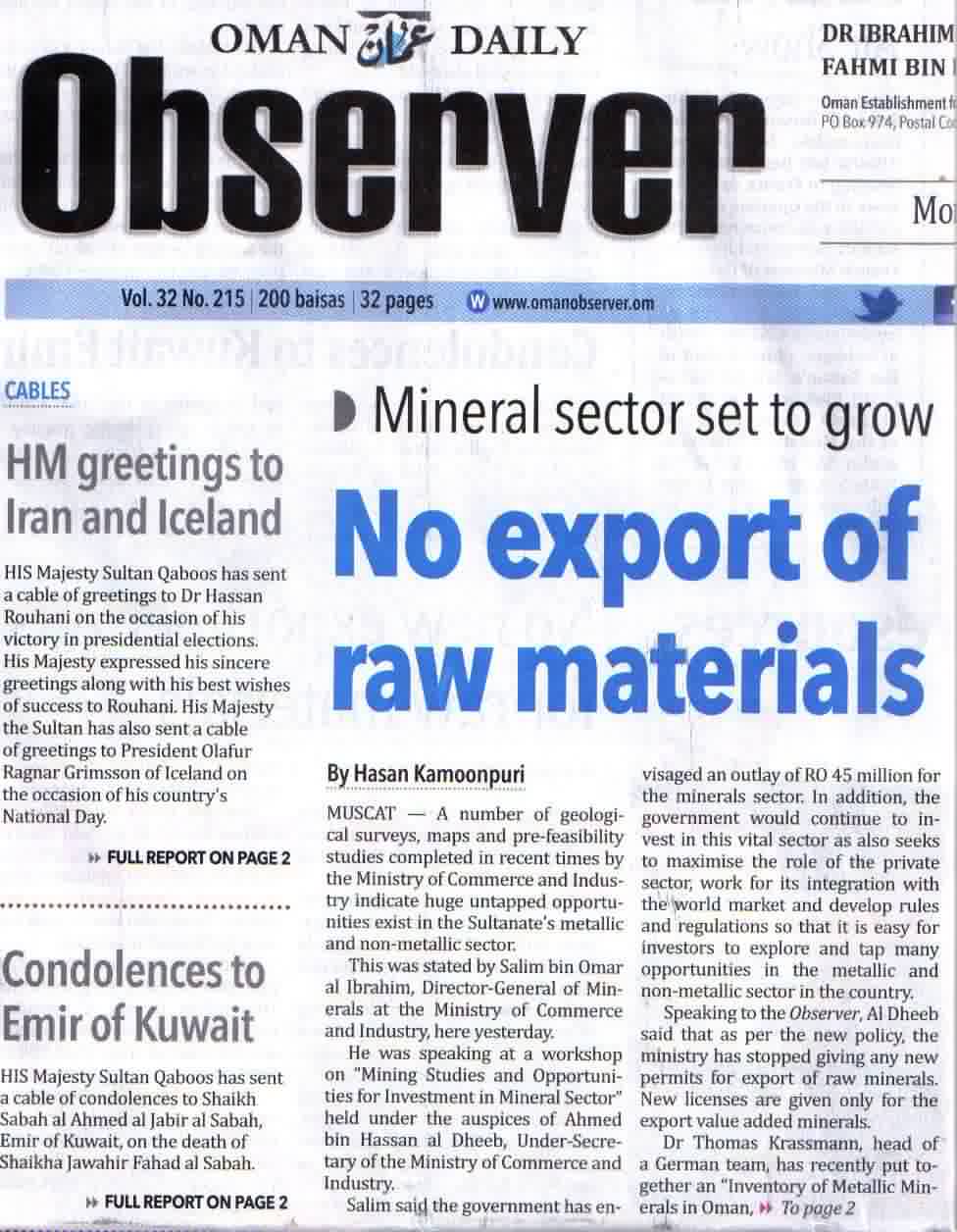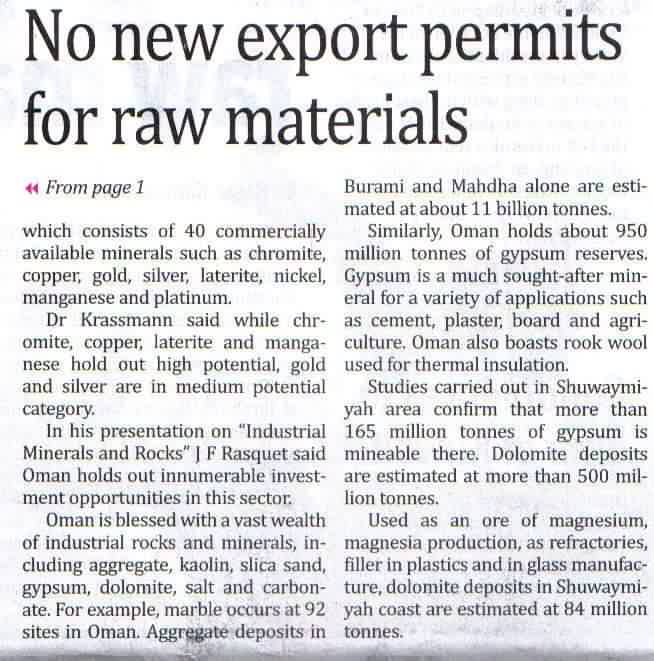 May, 3rd 2013 - 20 Years of Hydrobüro / Mineral & Exploration Dr. Krassmann !
In the first days of May 1993 Dr. Krassmann - at this time based in Rodenberg am Deister / Northern Germany - started his consulting business Hydrobüro, to supply services in the fields of geology, mineral resources and mining. These days we can celebrate 20 years of sucessful consulting work, since already 10 years in Bad Windsheim / Northern Bavarua. As always, we had a nice celebration with a lot of friends and collegues, including a field trip to the "Donaudurchbruch" at Weltenburg monastery and to a prehiszoric flint / silex mining area near Abensberg.
January, 9th, 2013 - We wish all our friends, colleagues and clients a good, sucessful and peaceful New Year 2013 !
The better part of 2012 we spent - in close cooperation with a team from BRENK - Systemplanung / Aachen - with the analysis and assessment of the mineral and mining sector in the Sultanate of Oman. Please find below some geological impressions from this most fascinating country :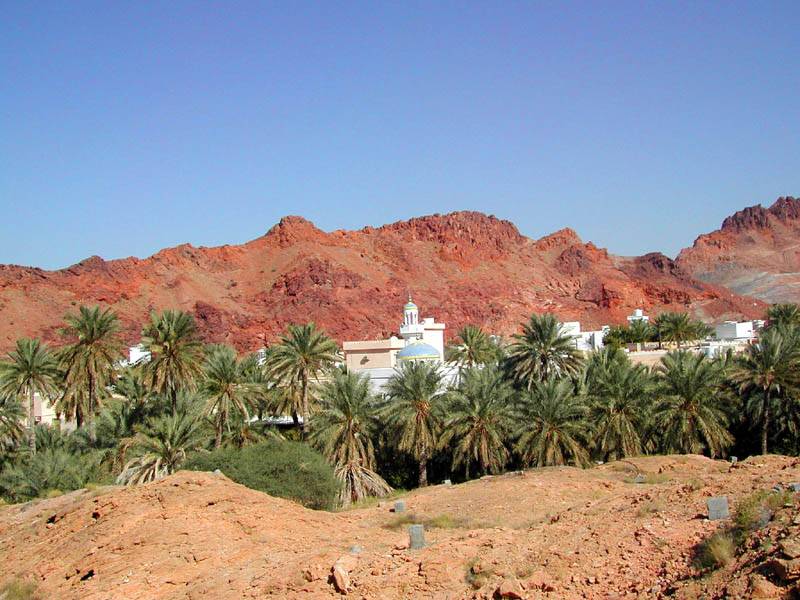 Oasis in the Hajar - Mountains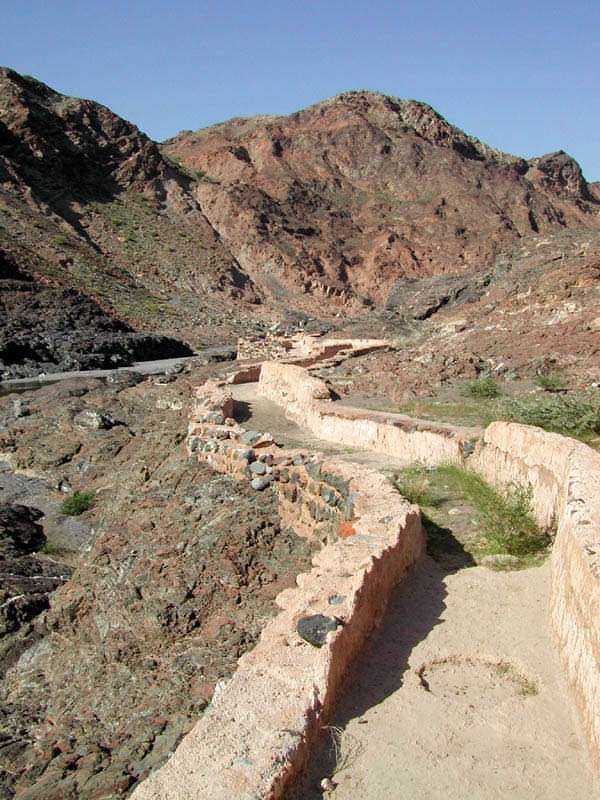 Falaj - The art of irrigation in Oman, still widely used !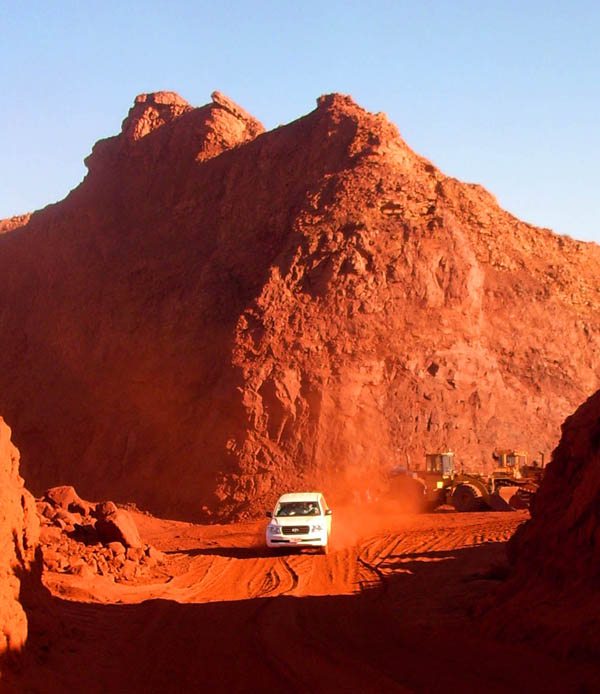 Assessment of a laterite mine, a very dusty work indeed !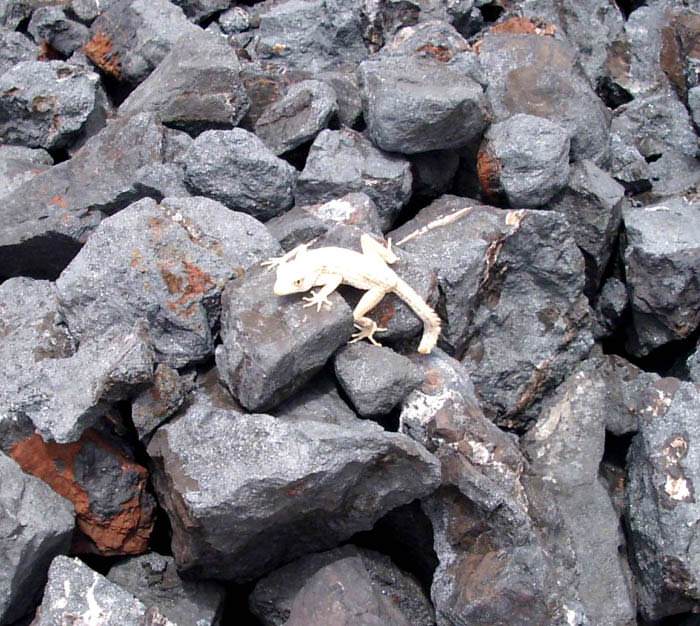 "Miniature dragon" on high grade manganese ore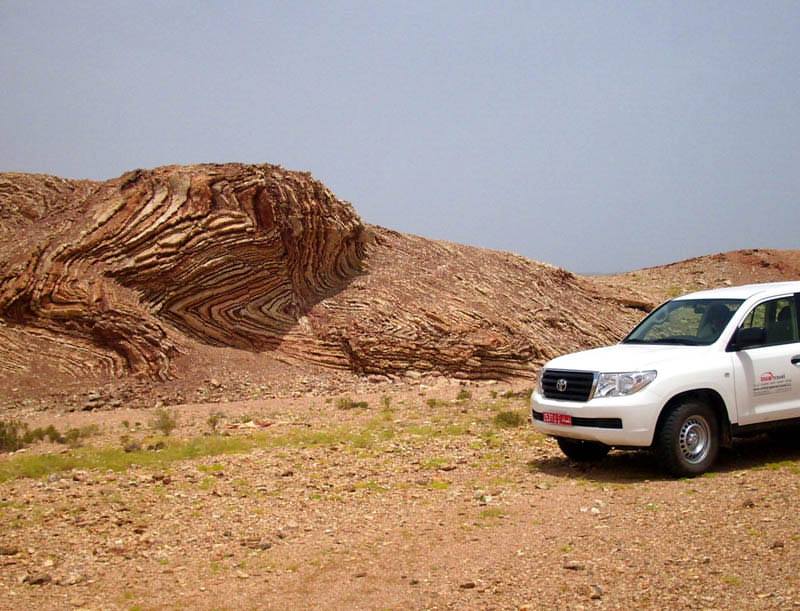 Intense tectonics of Hawasina radiolarites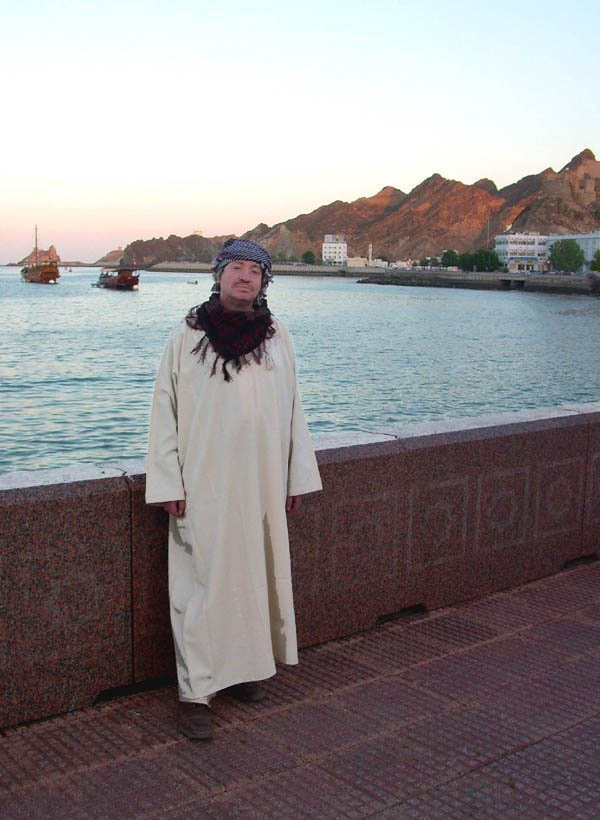 Yours truly in typical Omani Dishdasha outfit
November 3rd, 2012 - After a longer hiatus today please find our autumn update :
Two new publications online about "Central Anatolia / Turkey Geological Field Trip 2002" as well as about "Underground WW II Installations in Southern Lower Saxony, Germany". There is also a new map available covering "Global Graphite Mines and Producers 2012". As always, please have a look at our publication site to see and read these map and papers.
February 1st, 2012 - Sorry for being late, but nonetheless we wish you indeed a good and sucessful 2012 !
Please find two new publications on our website covering underestimated hazards of vulcanic dust emissions on european energy supply as well as the fourth and last part of the (coal) mining series in the Schaumburg area. Please have a look at our publication site to read the papers.
May 16th, 2011 - Updated List of References available & Mining Maps of Slovenia and Slovakia
A new improved and updated list of reference is available here. In the last few weeks we had the opportunity to visit several mines and mineral deposits both in Slovakia and Slovenia, so I took the chance and prepared two new maps about the current state of mining in both countries, which you can find down at our publication site.
March 8th, 2011 - New virtual visit of the Reichhartschacht Fluorspar Mine online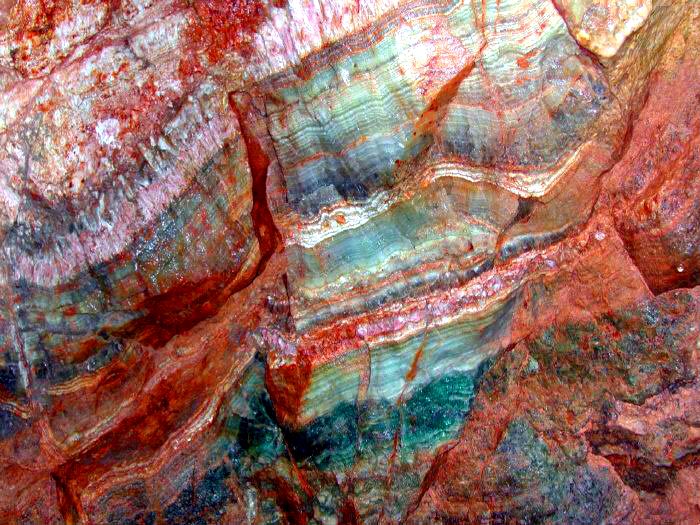 Fluorspar Vein Reichhartschacht near Stulln, Northern Bavaria
The Wölsendorf fluorspar ore field in Northern Bavaria used to be the major fluorspar mining region of Western Germany and in fact one of the major world producers of fluorspar until its closure in the 1980ies. Luckily, some spectacular colourful fluorite veins have been preserved for posterity in the Reichhartschacht mine. Please take a virtual tour here or at our publication site.
Februar 27th, 2011 - Third part of our publication of the Schaumburg mining area / Germany online, covering iron ore, potash and underground quarrying
Please have a look at our publication site.
December 28th, 2010 - Several new Publications and Maps uploaded
By clicking here you can read the following new publications 1.) Mining, Metall Resources and Exploration in Ireland (german with english summary); 2.) Virtual Visit of the Hoba Meteorite in the Otavi Mountain Land, Namibia (english); 3.) Virtual Walk along the Quartzberg on Farm Verloren - Natas in Namibia with Quartz - Megacrystals up to 20 m !; and 4.) Map of global Borate Mines and Producers 2010
We wish you pleasant and interesting reading and Happy New Year 2011
December 6th, 2010 - We thank all our friends, collegues and partners for friendly cooperation in 2010 and wish you all a Merry Christmas and a sucessful and blessed New Year 2011 !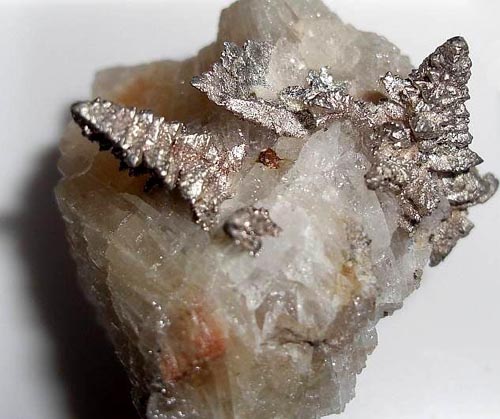 "Christmas Ore 2010" - Native silver Christmas trees in calcite from historic Wittichen ore field, Black Forest, Germany; : Photo : Sebastian Möller, Neumünster
November 10th, 2010 - New Publication about German Gold Deposits and Exploration Potential online
In the last weeks we updated some of our publications and added a new publication about german gold deposits and gold exploration potential titled "Primary gold deposits in Germany". We also added some new maps about the current mining situation in Namibia and Ireland. Please click here to access the publications and maps. Enjoy your reading
June 27th, 2010 - Update on Projects and Publications
In the last three months we worked amongst others on the following projects : Reconaissance of a gold deposit in Hungary; Advice on filler deposits in Southern Africa; Assessment / Due Diligence of rare metal deposits in Vietnam.
End of 2010 a german mining magazine will publish a special edition on gold deposits and gold potential in Germany. We were asked to contribute a paper on "Primary gold deposits in Germany", which we are preparing right now.
April 30th, 2010 - New Publications and Mineral Commodity Maps online
Added two new geological publications about Lanzarote / Canary Islands and economic geology & mineralogy of southern Namibia and adjoining Northern Cape / RSA. Also added two maps documenting potash and salt mining as well as gypsum and anhydrite mining in Germany. Please click here to access the publications and maps.
April 1st, 2010 - A happy Easter to all our visitors, friends and business partners !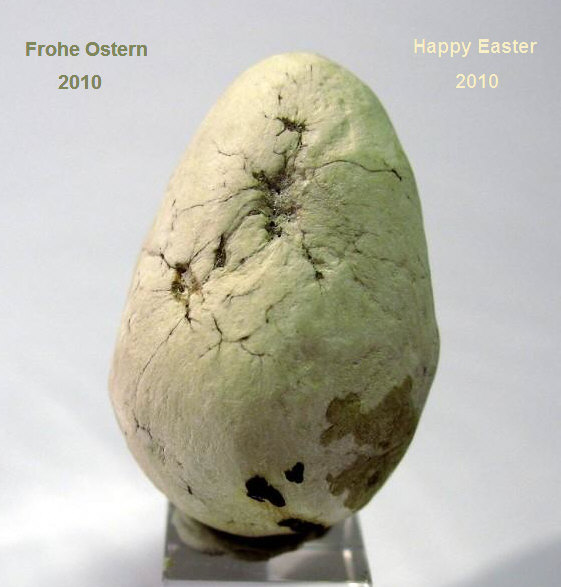 Easteregg 2010 : Lüneburgite - rare magnesium borate from Lüneburg, northern Germany, Photo : P. Blümner
March 20th, 2010 - New Publications and Mineral Commodity Maps online
Added two new publications about emerald prospection in Egypt back in 1994 and about the geology and coal mining history of the Schaumburg County in northern Germany. Also added several maps documenting the availability and scarcity of various strategic metals, especially in the EU. Please click here to access the publications and maps.
March 15th, 2010 - New website online
Our new website is online. Your comments and feedback is highly appreciated. Contact us here.